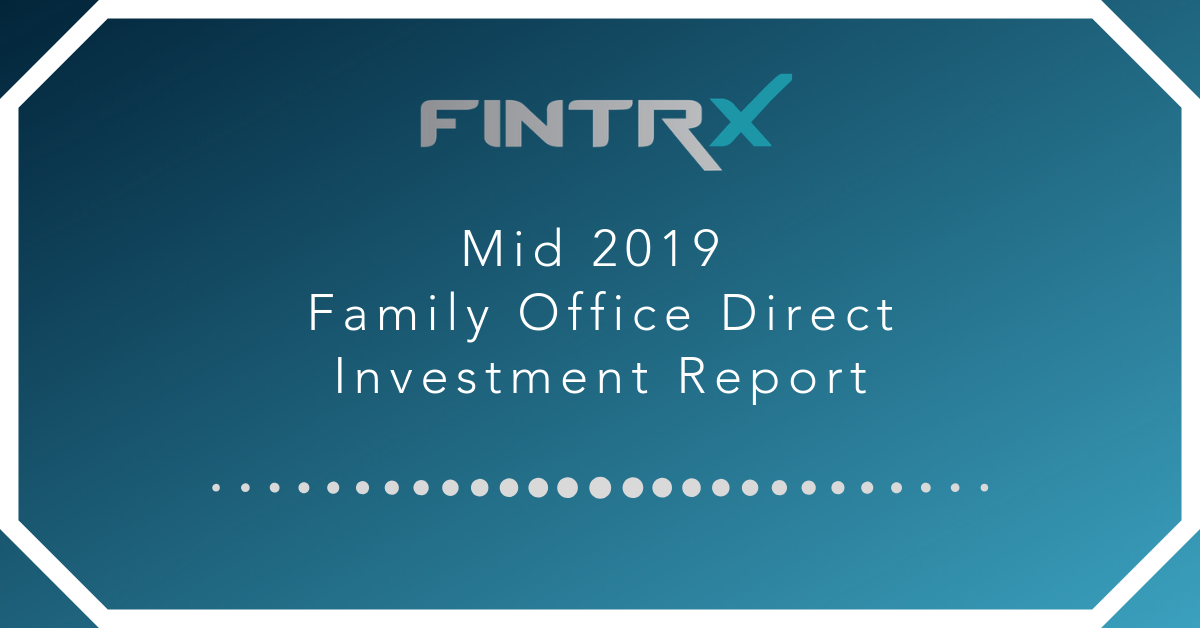 With the first half of 2019 already in the books, we've constructed a comprehensive family office direct investment report that provides insight on the investing trends for the first half of the year. The information contained here, constructed from FINTRX-Buy-Side, provides useful data and analytics on global investment activity, information on private companies receiving family office capital, and insight into trending industries. We've unpacked this in greater detail below.
Table of Contents
FINTRX Buy-Side: A Brief Recap

Designed for our private equity, venture capital, investment banking, and private company clients, FINTRX Buy-Side provides detailed investment history on 2,800+ family offices worldwide, monitoring the amounts invested, stage of investments, industry developments, and much more.
Key Highlights:

- Data and analytics on the investment history of 2,800+ family offices around the world
- Funded company insight and contact information
- Industry and sector breakdowns
- Oversight on family office allocations including new deal flow
- Family office direct investment news via live and archived modules
---
The Increased Appetite for Direct Investments
As family offices continue evolve into more sophisticated outfits, their increased appetite for making direct investments show no signs of slowing down. More often than not, family offices turn to direct investments to have greater control of their investment portfolio, as compared to allocating to private equity fund managers who charge a layer of fees and have complete oversight of where the investment is allocated to.
Key Highlights:
- We have tracked over 500 direct investments made by family offices since January 2019
- The total amount of money raised by companies has soared to over $340 billion
- To date, there have been over 2,900 direct investments made by family offices within FINTRX Buy-Side
- Direct investments tend to be aggregated in areas where families' feel like they have a competitive edge
- To date, our product has seen the largest direct capital allocated to the technology industry
"We continue to see an increased exposure to direct deals amongst family offices and their alternative portfolios. Our team continues to build and expand the platform's core features around this vertical of our business for our clients throughout the private capital markets."
- Chris Kiley, Senior Business Development Director
---
Direct Investment Regional Breakdown
As we continue to track the direct investment activity within the global family office space, we've provided further clarification on the regions receiving the most direct investment action.
Key Highlights:

- 500+ family offices have made over 2,768 direct investments into 2,387 companies spanning across 93 industries
- North America swept up about 67% of investments from family offices with more than 1,627 companies, the most of any other region
- Europe continues its growth, coming in second behind the United States in regional investment activity
---
Family Office Direct Investment Tendencies
When exploring the relationship between family office location and the companies they invest in, we've discovered strong correlation between the two. Although global family offices continue to see a significant boost in their investment performance, a vast majority of families are choosing to expand more locally than one would expect.
For Example:

- Family offices in North America are 85% more likely to invest in a company based in North America
- A European based family office is 65% more likely to invest in a European-based company
---
Direct Investments: Top Five Industries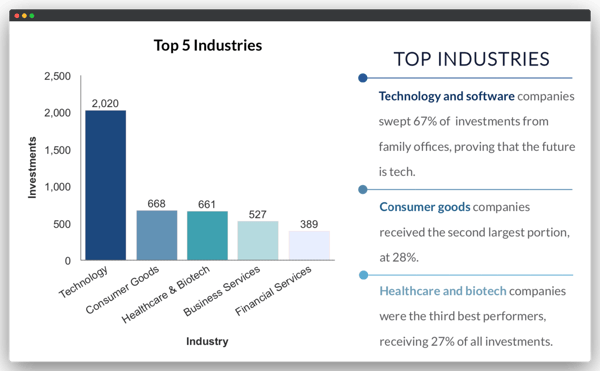 When exploring the leading industries garnering the most family office capital, technology and software companies continue to lead the way.
To date, family offices have made the greatest impact in the following industries:
Technology - 2,020 investments - The technology industry continues to receive a steady flow of family office investment capital, surpassing all others by a large margin. Our research leads us to believe family offices will continue to deploy capital into the tech space and will continue to outride others in the coming years.
Consumer Goods - 668 investments - Investors have become increasingly attracted to those in the consumer goods industry as it has become a viable option that often leads to significant returns. We've found that the leading companies are those that harness the power of digitization and data analysis. To date, online retail is the fastest growing segment in the industry.
Investors put their capital behind companies in consumer goods for a number of reasons:

- Mass appeal
- Large market sizes with recurring revenue
- High gross margins that lead to strong cash flow
- Transparency
- Rapid growth in revenue and shareholder returns
- Low capital intensity
Healthcare & Biotechnology - 661 investments - Investing in the healthcare and biotechnology industries continue to hold sway over the wealthy, despite the high level of risk involved. Family offices with the high-level of sophistication and a sticky capital approach often aggressively compound their capital in the highly leveraged healthcare and biotech space.

Business Services - 527 investments - Business services often apply to companies aiming to provide valued services for its customer base. In the last few decades, the industry continues to attract family office capital given its diversity and mass appeal.

Within FINTRX, the top sub-sectors of the business services industry are as follows:

- Advertising
- Auction
- Insurance
- Legal Services
- Marketing
- Professional Services
- Publishing
- Recruiting

Financial Services - 389 investments - The financial services industry has been at the forefront of global earnings and equity market capitalization for decades, so it's no surprise that it falls in our top five industries receiving family office capital. Financial services, or the method(s) in which a consumer or business obtains capital resources, are commonly associated with investments, insurance, and the reallocation of risk.

Within FINTRX, the top sub-sectors of the financial services industry are as follows:

- Banking
- Blockchain
- Cryptocurrency
- Investment Management
- Lending
Real Estate, Construction, and Manufacturing Sectors
Key Highlights:
- Real estate, construction, manufacturing, and other related industries have been increasingly popular targets for family offices
- 649 companies in real estate, construction, or manufacturing have received direct investments
- More than 50% of companies involve some kind of manufacturing, technology or software
- Over $15 billion in direct investments have been made into the real estate, construction, and manufacturing industries
---
Industry Wealth Creation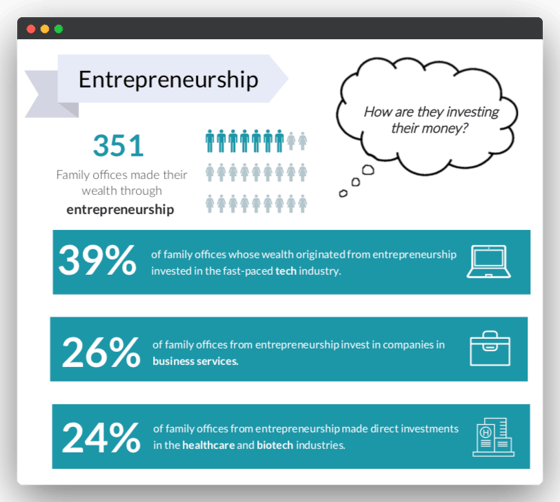 By leveraging the origin of wealth search filter found in FINTRX Buy-Side, we've uncovered several trends related to industry of wealth creation and its correlation to family office investment activity. Family offices are more likely to allocate capital to companies that operate in industries in which the family created their wealth. Understanding how the wealth was created can be a valuable asset into the future investment interest of a particular group.
Key Highlights:
- 350+ family offices made their wealth through entrepreneurship
- Nearly 40% of family offices whose wealth originated from entrepreneurship invested in the tech industry
- 26% of family offices with their origin of wealth being entrepreneurship invest in companies in business services
- 24% of family offices from entrepreneurship made direct investments in the healthcare and biotechnology sectors
---
Top Stages of Direct Investments
Our research team has diligently outlined the five most prominent stages in family office direct investment activity with additional insight on each.
Funding Rounds: A, B, and C - Series A, B, and C funding rounds refer to the processes of growing a business through external investments. Series A and B are funding rounds for earlier stage companies, while Series C rounds are for more established companies.
Venture Capital - Venture capital is funding provided by investors to smaller startups that are believed to have long-term growth potential, as it provides an opportunity to expand into different markets. Venture funds carve out specific industries or verticals, making a number of selected investments across an array of companies.
Seed Capital - Seed capital is a form of offering in which a family office invests capital in a startup company in exchange for an equity stake in the company. Seed rounds are among the first wave of funding a firm will receive, generally while the company is young and working to gain traction.
---
Future Outlook of Family Office Direct Investment Activity
The family office landscape is a forever moving target, as its continued expansion and increased sophistication trends remain steady. Our research and family office deal flow tracking leads us to believe that both the number of family offices becoming active in the direct investment space as well as the total dollar amount being allocated to private companies will continue its upward trajectory.
"The family office space continues its clear upward trend, both in terms of assets and number of offices." - Russ D'Argento, Founder and CEO of FINTRX
---
For an in-depth exploration of the FINTRX family office platform, click below:

For more practical family office insights and best practices, visit our newly renovated 'Resource Library' below.