Comprehensive Private Wealth Group Data, Covering

Wirehouse

&

Aggregator Teams
Our proprietary Private Wealth Group Dataset delivers unprecedented access into wealth teams within wirehouses and independent aggregators - arming your team with the detailed intelligence needed to map, access, and sell into this tough to reach market.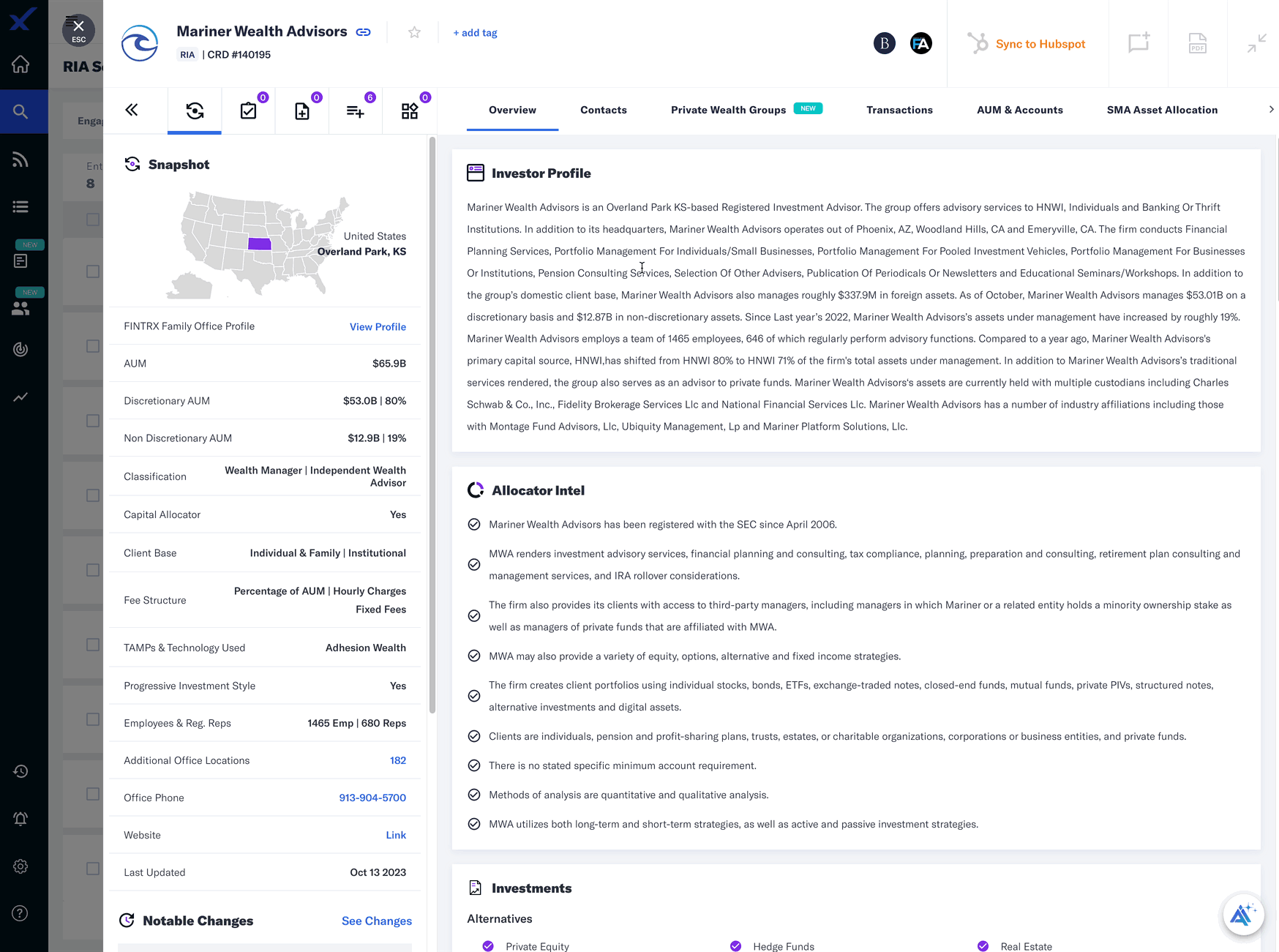 75,000+

private wealth group records
4.2 Million

total private wealth group data points covered
PRIVATE WEALTH TEAM COVERAGE
Access Private Wealth Teams Within
Independent Aggregators

&

Wirehouses

.

FINTRX's Private Wealth Group Dataset delivers unprecedented access into private wealth teams within wirehouses and independent aggregators - arming you with detailed intelligence into team structure, specialties, networks, investments used, and more...

Historically, private wealth team data has been difficult, if not impossible, to obtain. By unlocking this highly sought after and first-of-its-kind dataset, FINTRX now enables seamless access into the rapidly growing private wealth team ecosystem to drive better outcomes for your business.
NOTEABLE AGGREGATORS
Hightower • Mariner • Mercer • Janney • Captrust • William Blair
Access Wealth Teams
Efficiently.
Access Independent Aggregators
Efficiently identify hard to find wealth teams within aggregator firms.
Uncover Reps At Target Teams
Uncover key decision makers and executives at wealth groups of interest
Predict & Monitor Wealth Team M&A Activity
Identify key M&A targets for wealth team mergers
Track Team AUM, Asset Flows, Investments Used & More
Monitor key trends and activities within hard to find private wealth groups
Map & Access Wealth Groups Within Parent Firms
Gain visibility into private wealth groups nestled within complex financial institutions. Our unique wealth group dataset maps and provides access to wealth teams segmented within wirehouses, and independent aggregators.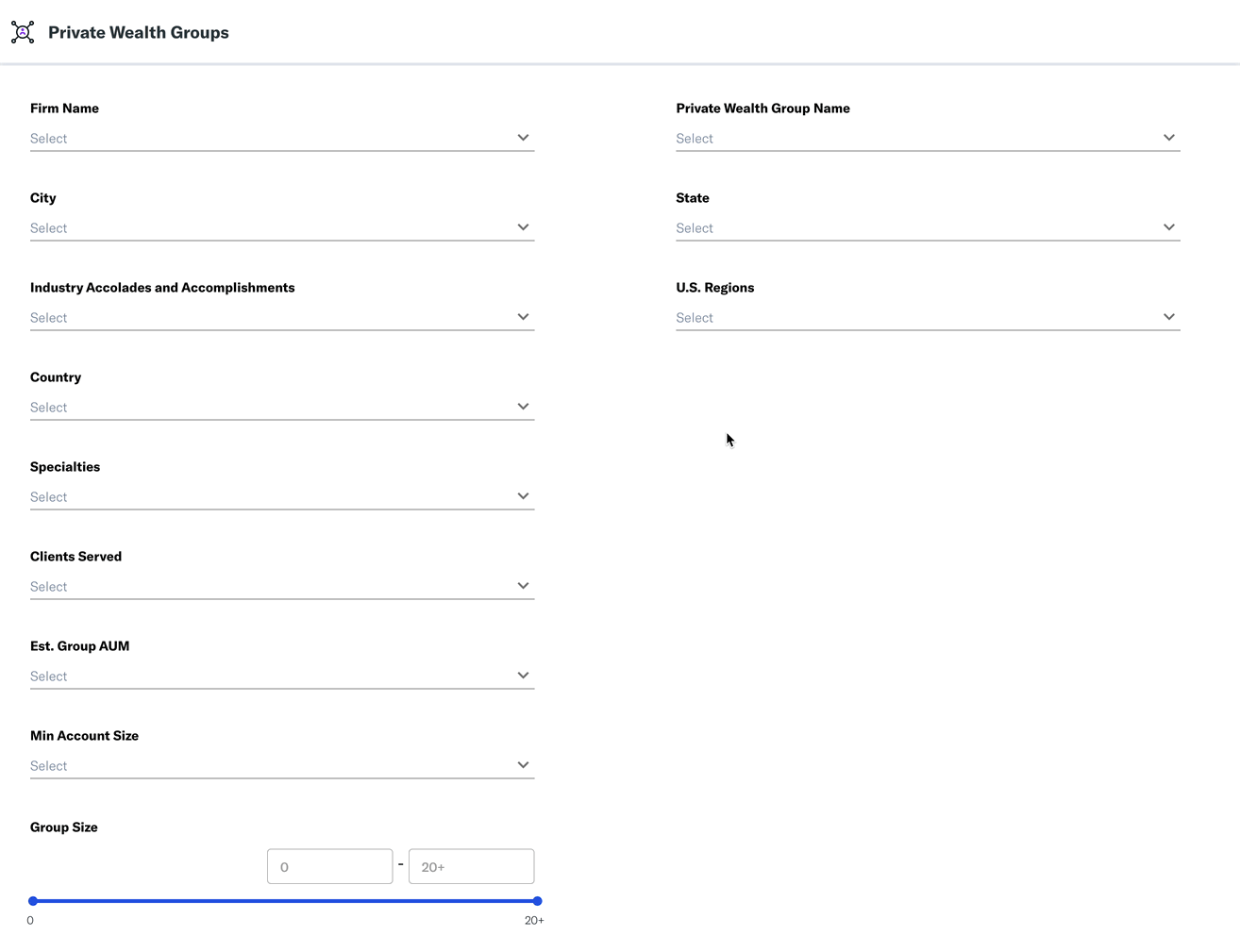 TAILORED WEALTH TEAM FILTERS
Intuitive Wealth Group Filters
With just a few clicks, filter down to the most relevant groups for your business needs. Identify best-fit targets, benchmark group performance and behaviors, and inform your outreach approach with tailored intelligence.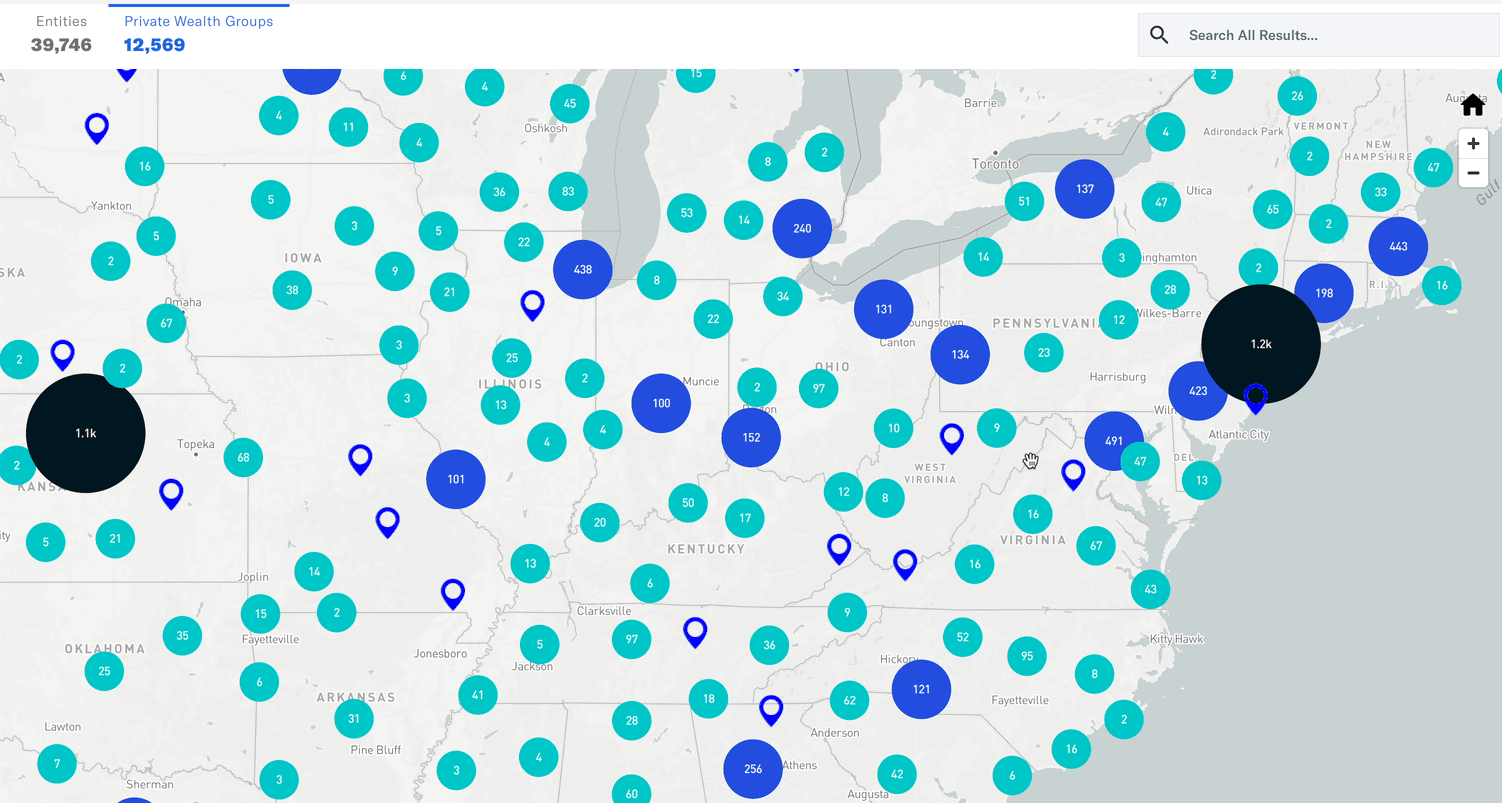 Point & Click Wealth Team Mapping
Easily define territories and regions to segment the marketplace. Map groups layered over your existing coverage areas or prospects to uncover white space regions and optimize targeting.


Track Top Ranked Wealth Teams
Our customer growth rankings and tracking intelligence empowers you to hone in on the highest value wealth teams and prospects. Prioritize groups primed for growth and identify newly launched groups as they emerge.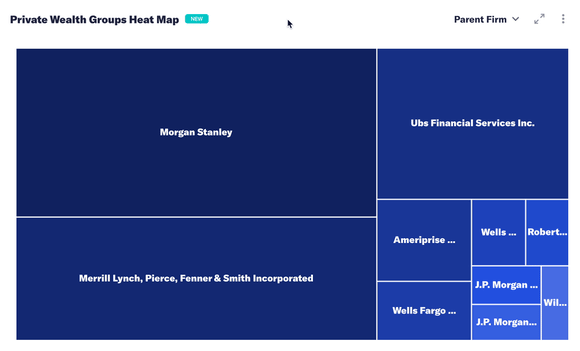 Analyze Wealth Teams by Cohorts
Gaining insights into private wealth groups and identifying opportunities has never been easier. Segment private wealth teams by location, assets under management, service offerings, team structures and much more.


Trusted by Industry Leaders
Meet a few of our trusted customers
Best in class asset managers and financial services firms leverage FINTRX to map, access, and sell into the global family office & registered investment advisor ecosystem. Learn more below!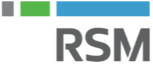 Hear What Our Customers Have to Say

"As a long time Discovery Data user, FINTRX has been a breath of fresh air allowing us seamless access to investment advisor and registered rep data." -

Jud Mackrill, Partner, Mammoth VC

"I have been very impressed with the quality of the FINTRX platform - no other platform has the breadth and depth of coverage of the global family office investor universe." -

Will Dombrowski, Partner, Apis Capital

"FINTRX has allowed us to tap into the family office channel across our multiple strategies in a way we could not do until now. We have more than doubled our touchpoints with family offices across the United States since using FINTRX." -

Michael Davis, NewSpring Capital

"Wonderful platform that has produced high-quality capital leads and has helped in building out our capital pipeline for existing and future investments." -

Samantha Ory, Ouroboros Group

"To date, I have already received an investment from a family office that originated from FINTRX that I had no prior connection to whatsoever." -

Kevin Gahwyler, Measure 8 Venture Partners

"The detail on contacts and firms is incredible - unparalleled. The knowledge provided by FINTRX on individuals' and firms' investment goals has proved invaluable when approaching potential new investors." -

Benjamin F. Byrd IV, Ramston Capital
Simplify your private wealth team access
Book more meetings, increase efficiency, and expand your network


Explore FINTRX
Navigate to key areas of our site below