As family offices continue to advance worldwide, the FINTRX data and research platform continues to evolve alongside. Universal family office developments continue to transform the operational methods of those within the alternative investment industry and private capital markets. To showcase this model of growth, we have compiled a extensive breakdown on all data gathered from July of 2020...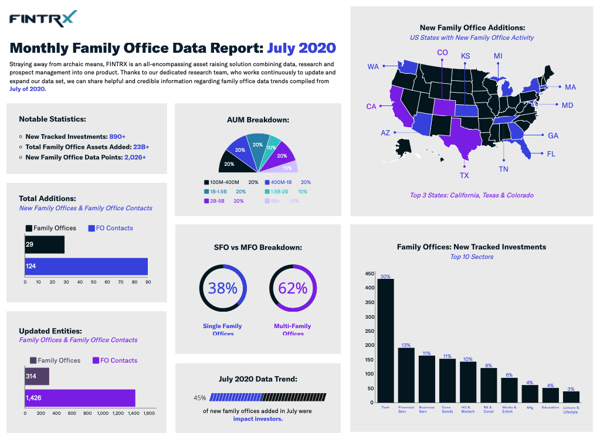 ---
All FINTRX data reports are produced exclusively utilizing our expansive family office data and research platform. Thanks to our dedicated research team - who continuously work to update and expand our vast data set - we are able to share helpful and credible information regarding family offices and the private wealth ecosystem at large.
July Statistics
→ New Family Office Data Points:
2,026+
→ Total Family Office Assets Added:
$23 B+
→ New Tracked Investments:
890+
→ Total Family Office Additions:
153+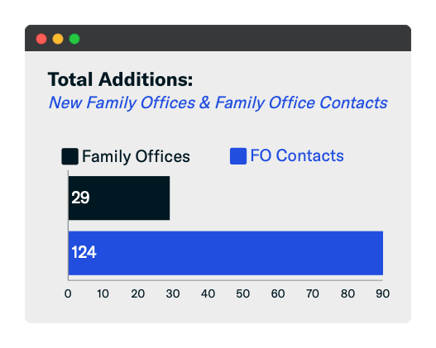 ⇒ Family Offices Added: 29
⇒ Family Office Contacts Added: 124
→ Updated Entities =
1,740+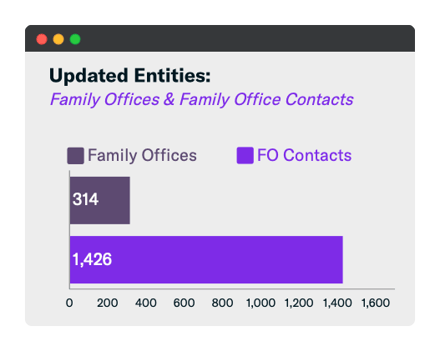 ⇒ Updated Family Offices: 314
⇒ Updated Family Office Contacts: 1,426
→ Newly Tracked Family Office Investments:

Top 10 Sectors

1. Technology = 30%
2. Financial Services = 13%
3. Business Services = 11%
4. Consumer Goods = 11%
5. Healthcare & Biotech = 10%
6. Real Estate & Construction = 8%
7. Media & Entertainment = 6%
8. Manufacturing = 4%
9. Education = 3%
10. Leisure & Lifestyle = 3%

Despite the irregularity in the markets, there are a number of regions that continue to thrive in the face of uncertainty. Below, you can see which US states were most active in terms of family office additions for July. California, Texas and Colorado have shown to be the most active US territories, as of late. Family offices recognize that as new ways of life begin to emerge, new opportunities will follow.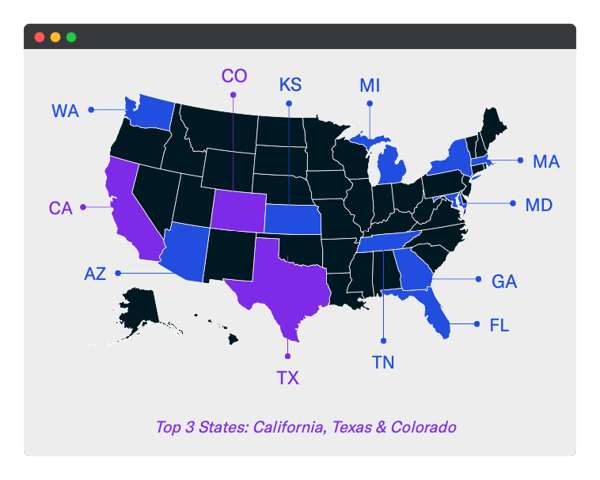 For an in-depth exploration of the FINTRX family office platform, click below:

Visit our newly designed Resource Library below for useful family office readings and guides to success.