Global family office developments continue to transform the operational methods of those within the alternative investment industry and private capital markets. To showcase this model of growth and development, FINTRX releases a complete breakdown of all single and multi-family office data compiled from February of 2021.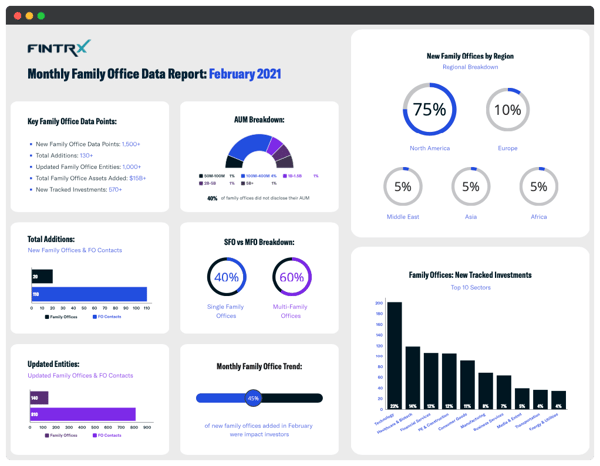 ---
All Data Reports are produced exclusively utilizing the FINTRX family office data and research platform. Thanks to our dedicated research team - who works every day to add and update our vast dataset - we can share credible information regarding single family offices, multi-family offices and the private wealth space at large.
Notable Family Office Data Points:
→ New Family Office Data Points:

1,500+

→ Total Additions:

130+

→ Total Family Office Assets Added:

$15B+

→ New Tracked Investments:

570+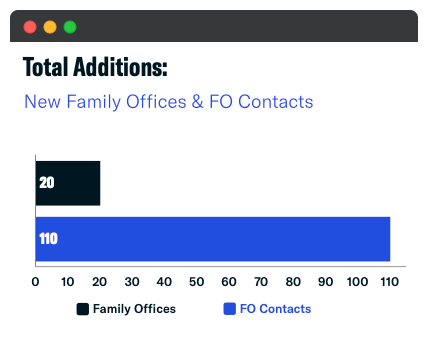 ⇒ Family Offices Added: 20
⇒ Family Office Contacts Added: 110
→ Updated Family Office Entities = 1,000+
⇒ Updated Family Offices: 140
⇒ Updated Family Office Contacts: 810

→ Newly Tracked Family Office Investments: Top 10 Sectors

1. Technology = 23%
2. Healthcare & Biotech = 14%
3. Financial Services = 12%
4. Real Estate & Construction = 12%
5. Consumer Goods = 11%
6. Manufacturing = 8%

7. Business Services = 7%
8. Media & Entertainment = 5%
9. Transportation = 4%
10. Energy & Utilities = 4%
→ Monthly Family Office Data Trend: Family Offices Making Impact Investments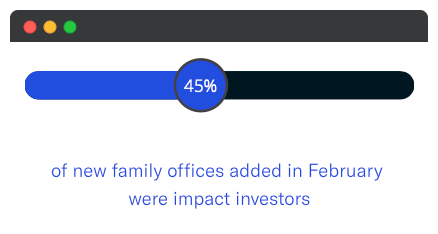 For more information on family offices making impact investments, check out our recent post titled, The Rise of ESG & Impact Investing Among Family Offices, or visit our blog below.
---
Built with the asset raising professional in mind, FINTRX features intuitive data exploration tools specifically engineered to provide an effective means of targeting family office capital around the globe. Explore in-depth family office profiles with insight on each group including background, contact information, origin of wealth, investment interest, investment history and more.
For an in-depth exploration of the FINTRX family office platform, click below:

Visit our newly designed Resource Library below for useful family office readings and guides to success: