Over the past few years, family offices around the world have greatly increased in size, number and sophistication. Along with this transition has come a drastic change in their investment approach, particularly showing a growing interest for transparency and control over their allocation of funds. In utilizing the FINTRX Buy-Side platform, which provides insight and analytics into thousands of direct deal transactions made by family offices worldwide, we shine light on three family offices that have recently made direct investments into private companies...
By nature, we tend to see a recurring theme when it comes to family offices and their direct investment activity. Family offices, specifically single family offices or SFOs, are more likely to distribute their capital to the industries in which they made their wealth, particularly in view of their past experience and industry knowledge. To give you a sense of this recurring trend, we have provided a summary overview of three recent family office direct investment deals tracked within the FINTRX Buy-Side platform.
1. Gart Companies (Gart Family Office)
Gart Companies is a Denver, CO-based third generation, single-family office and holding company. The firm's patriarch, Nathan Gart along with his sons, created the family's wealth through the founding of his outdoor equipment shop, Gart Bros. Sporting Goods Company in 1928. The firm initially began with a single store in downtown Denver and by 1992, grew to 150+ storefronts. That year, Gart Companies was formed to serve as the family's primary investment vehicle. Thus, it comes as no surprise that the firm's most recent investment took place within the retail and outdoor clothing space, via their acquisition of Work World.
Company Invested In: Work World
Date of Investment: January 2020
Industry/Sector: Retail
Financing Round: Acquisition
In addition to having a propensity to invest within the outdoor retail space, FINTRX highlights several other characteristics the firm considers when allocating directly. For example, the firm regularly targets companies with management teams that have previously made significant financial commitments to their businesses as the firm prioritizes an increased level of aligned incentives.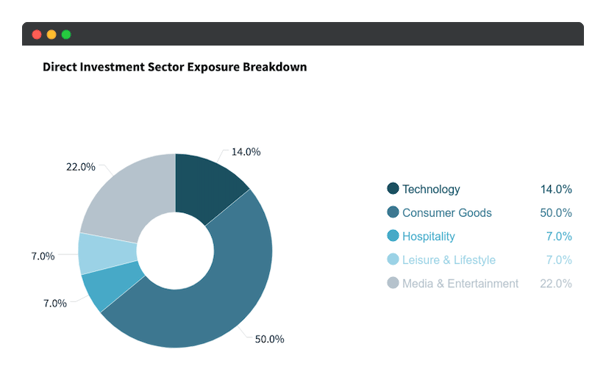 2. Copley Equity Partners
Copley Equity Partners is a Quincy, MA-based single-family office. The firm serves as the private investment arm of Rob Hale and his family. Rob Hale is a Boston-based entrepreneur and founder of Granite Telecommunications, one of the largest, privately held telecommunications companies in the United States. While the firm's investment portfolio holds true to diversification, it is safe to say their overarching theme is allocating capital to the business services industry, such as communications, public relations and marketing. Copley's most recent direct investment was made last month, to Gregory FCA - a national public relations and financing firm specifically focused on creating and deploying media relations, social media, content marketing, investor relations and financial communications campaigns.
Company Invested In: Gregory FCA
Date of Investment: January 2020
Industry/Sector: Communications, Public Services
Financing Round: Private Equity
Copley Equity Partners primarily makes direct investments into established companies operating within the lower middle markets. As you can see in the chart below, their most favored industry is business services, though they also look to other sectors as well.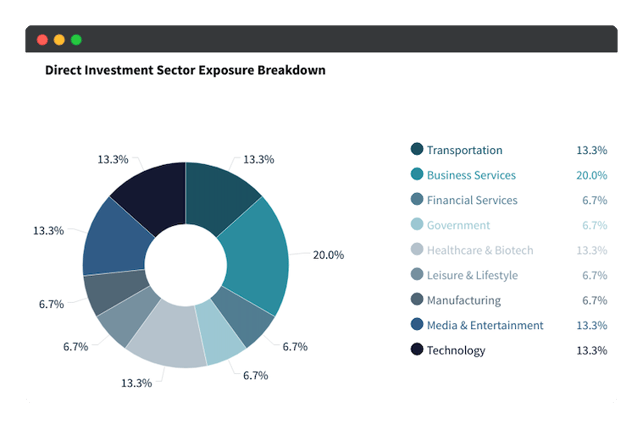 3. Hedgewood Single Family Office
The Hedgewood single family office is a Canada-based single family office which manages and invests the capital of Jesse Rasch. Rasch is the co-founder and former Chairman & CEO of WebHosting.com and InQuent Technologies. InQuent provides private label hosting solutions to telecommunications customers including Bell Canada, KPN, Telecom New Zealand, PCCW, AT&T, Comcast, & Cox Communications.
As you can see from their direct investment sector exposure breakdown in the chart below, it is safe to say that Hedgewood looks to diversify its direct investment exposure. Although Hedgewood's most recent investment in Mama Earth Organics, an organic home delivery food service, rings true to diversity, when we look back at their direct investment history, we see a recurring pattern. That is, directly investing in the technology and consumer goods sectors - both of which circle back to their origin of wealth. The group is very active in technology investments and prefers scalable and repeatable investments that can be grown over time.
Company Invested In: Mama Earth Organics
Date of Investment: February 2020
Industry/Sector: Food & Drink, Internet, Retail
Financing Round: Private Equity
Hedgewood is truly a global investor, making investments throughout Canada, the United States and across international borders. Take a look below at their direct investment sector exposure breakdown to see just how diverse the firm is in allocating their funds.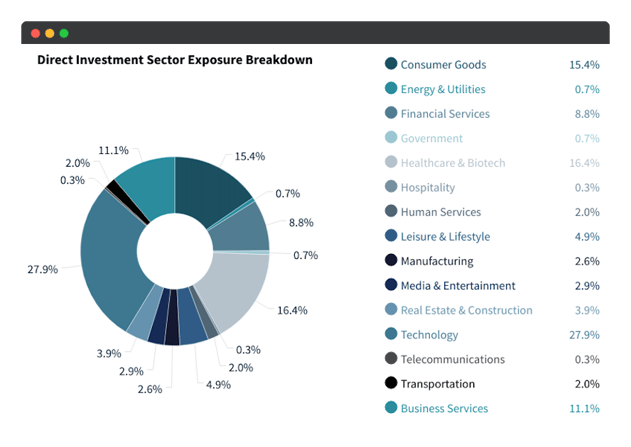 ---
Interested in an in-depth look at the AUM breakdown & location of the family office ecosystem? Check out our 2020 Part 1 Family Office Industry Briefing, sponsored by Charles Schwab.
---
Regarded as the go to resource family office data and research provider to the investment industry, the FINTRX family office platform combines proprietary family office data and research for its global contingency of investment managers and private companies seeking to increase their capital raising efforts.
For an in-depth exploration of the FINTRX family office platform, click below:

For more practical family office insights and best practices, visit our newly renovated 'Resource Library' below.