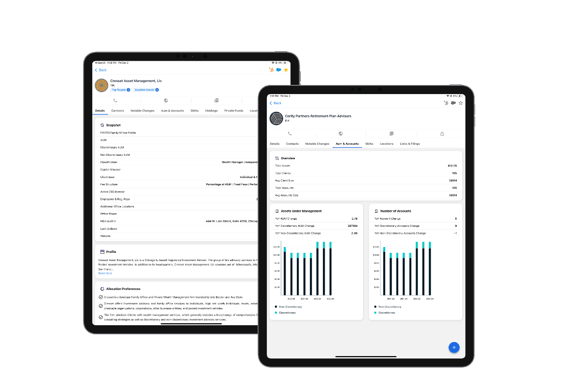 CUSTOMIZE YOUR IPAD EXPERIENCE
Scroll Through Your Custom Feed, Ensuring You Never Miss An Update
Fully customize your home news feed on your iPad device to display what is most important to you. Narrow down by asset class, territory, news mentions & much more...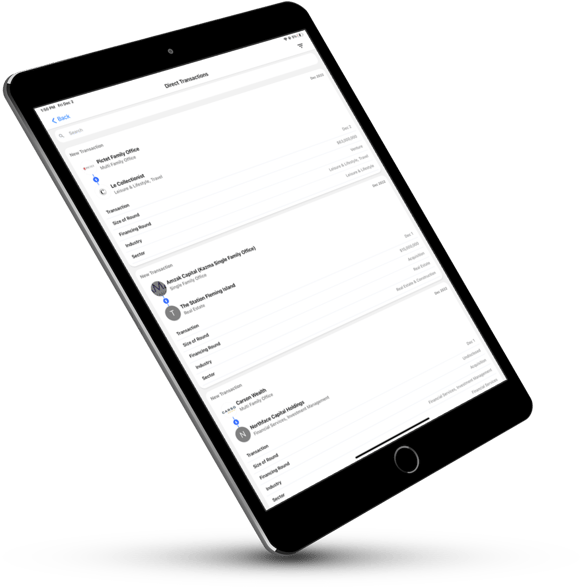 FULL SEARCH & SORT CAPABILITIES
Access Millions of FINTRX Firm & Contact Data Points From Your iPad
Access your common connections, shared alumni, full bios, hobbies & interests of your prospects and much more. Use your tablet to filter for specific family office & RIA firm level data points with the same level of granularity as in our award-winning web based platform.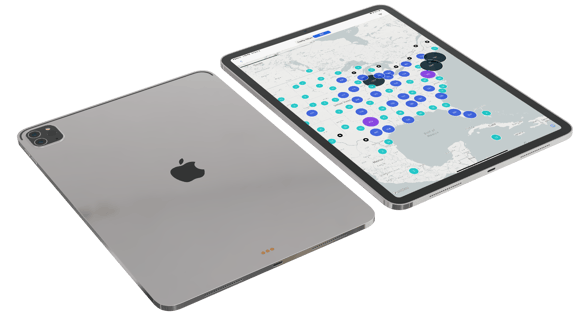 ACCESS ANALYTICS & MARKET TRENDS
Private Wealth Data Intelligence Accessible At All Times On Your Tablet
Our iPad application delivers you the insights, trends and data analytics you need to stay competitive in today's rapidly evolving market. Explore market trends, track AUM changes over time, and pinpoint equity & ETF holdings held on the go.




FINTRX iOS iPad App FAQ's
Who can use the FINTRX iPad mobile application?
Does the iPad application sync with LinkedIn?
How do CRM integrations work with the iPad app?
Are newly added records within FINTRX available within the iPad app daily?
Hear What Our Customers Have to Say

"As a long time Discovery Data user, FINTRX has been a breath of fresh air allowing us seamless access to investment advisor and registered rep data." -

Jud Mackrill, Partner, Mammoth VC

"FINTRX has professionalized our family office outreach in the same way that CapitalIQ and Pitchbook did for PE and VC funds." -
Jenny Poth, Ziegler Investment Bank

"FINTRX has transitioned our approach with technology, enabling us to cultivate a new level of relationships both in the Investment Advisor and Family Office markets. We've leveraged the deep dive intelligence of FINTRX to expand our spider web of connections and grow cold relationships into robust long-term conversations."
-

Shawn Hawthorne, Foxfield Capital

"I have been very impressed with the quality of the FINTRX platform - no other platform has the breadth and depth of coverage of the global family office investor universe." -

Will Dombrowski, Partner, Apis Capital

"FINTRX has allowed us to tap into the family office channel across our multiple strategies in a way we could not do until now. We have more than doubled our touchpoints with family offices across the United States since using FINTRX." -

Michael Davis, NewSpring Capital

"Wonderful platform that has produced high-quality capital leads and has helped in building out our capital pipeline for existing and future investments." -

Samantha Ory, Ouroboros Group

"To date, I have already received an investment from a family office that originated from FINTRX that I had no prior connection to whatsoever." -

Kevin Gahwyler, Measure 8 Venture Partners

"The detail on contacts and firms is incredible - unparalleled. The knowledge provided by FINTRX on individuals' and firms' investment goals has proved invaluable when approaching potential new investors." -

Benjamin F. Byrd IV, Ramston Capital
Turbo charge your family office & registered investment advisor data access
Book more meetings, increase efficiency, and expand your network


Explore FINTRX
Navigate to key areas of our site below