Family office & registered investment advisor data for
FINTRX lets you define what constitutes a core, power, and casual user, and conduct analysis on your own terms. Visualize differences in


Product Teams
Product Teams
Product Teams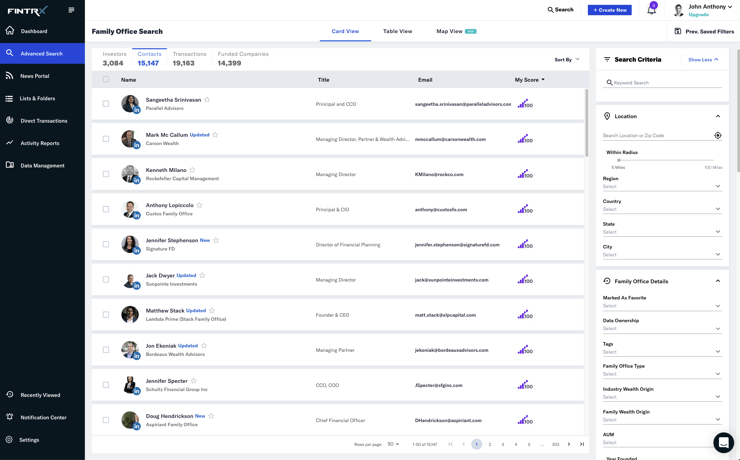 Family Office & RIA Data
Tailored For Investment Banks
Join the hundreds of investment banks who trust our unparalleled data and intuitive prospect management tools to efficiently source deal partners.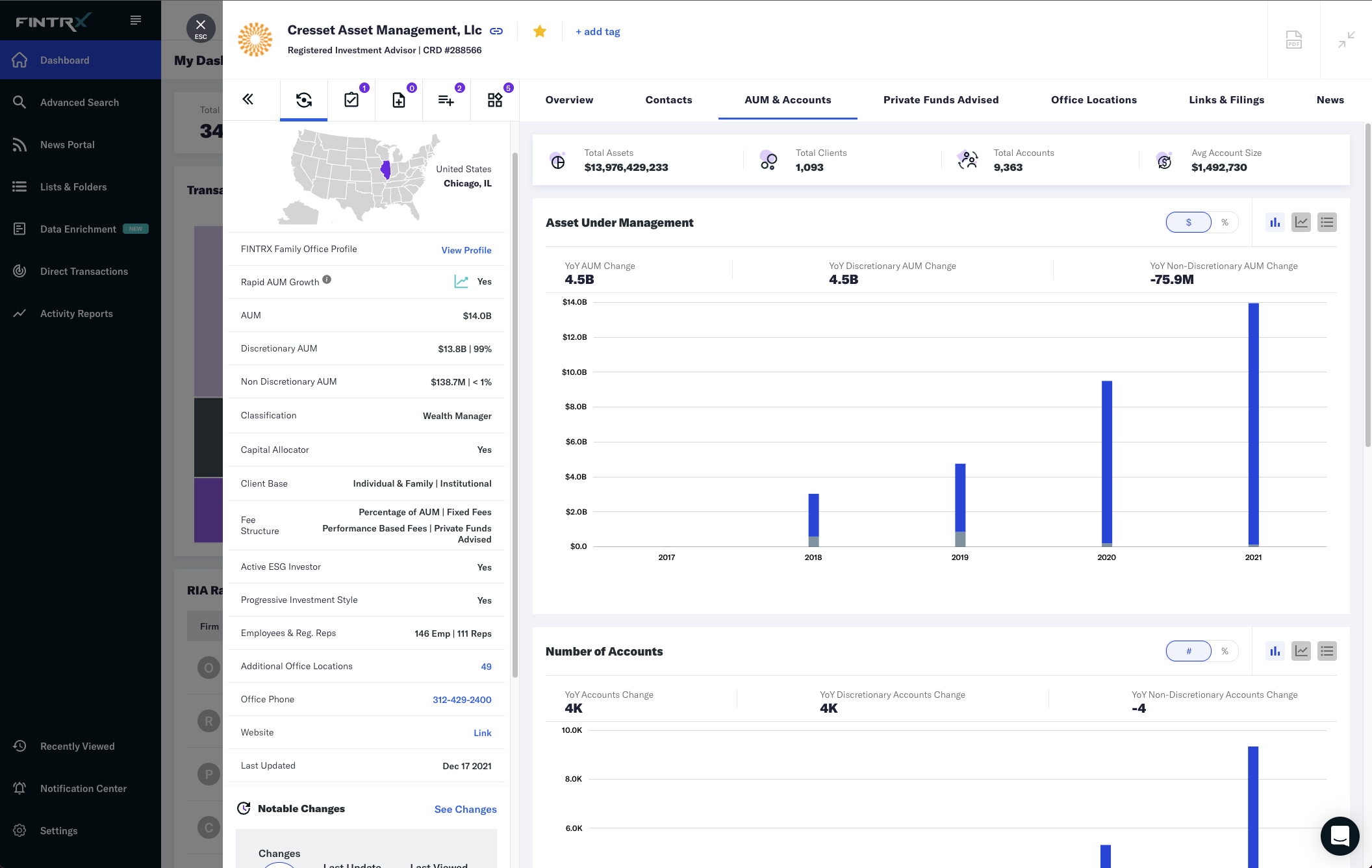 Source Investors For Your IB
Save time by prospecting into the right allocators at the right time
Uncover Investors For Your Deals
Pinpoint the right investors that invest in companies you represent
Access to IB Focused Contacts
Find and access the specific decision makers responsible for evaluating private companies
Your Private Wealth Investment Banking Questions Answered

FINTRX solves for critical questions, such as...
Which family offices make direct investments?
Who has recently invested in private deals?
Which family offices make co-investments into private deals?
Who in my network can introduce me to future deal partners?
Hear What Our Customers Have to Say

"As a long time Discovery Data user, FINTRX has been a breath of fresh air allowing us seamless access to investment advisor and registered rep data." -

Jud Mackrill, Partner, Mammoth VC

"I have been very impressed with the quality of the FINTRX platform - no other platform has the breadth and depth of coverage of the global family office investor universe." -

Will Dombrowski, Partner, Apis Capital

"FINTRX has allowed us to tap into the family office channel across our multiple strategies in a way we could not do until now. We have more than doubled our touchpoints with family offices across the United States since using FINTRX." -

Michael Davis, NewSpring Capital

"Wonderful platform that has produced high-quality capital leads and has helped in building out our capital pipeline for existing and future investments." -

Samantha Ory, Ouroboros Group

"To date, I have already received an investment from a family office that originated from FINTRX that I had no prior connection to whatsoever." -

Kevin Gahwyler, Measure 8 Venture Partners

"The detail on contacts and firms is incredible - unparalleled. The knowledge provided by FINTRX on individuals' and firms' investment goals has proved invaluable when approaching potential new investors." -

Benjamin F. Byrd IV, Ramston Capital
Source family offices making direct investments
Book more meetings, increase efficiency, and expand your network


Explore FINTRX
Navigate to key areas of our site below