As we round the corner into May 2020, the FINTRX team has been busy refining new product enhancements, enabling our users and putting together family office content that we hope you continue to find valuable. Our latest piece is surrounding the unique similarities and differences between the distinct entities that comprise the family office market.
Family offices have rapidly advanced over the past several years, essentially reforming the way the ultra wealthy manage and allocate capital. While this transformation continues to add value for high net-worth families and individuals around the world, this unique maturation has also added a new level of complexity to an already obscure space. In an effort to shed light on the family office landscape, we have summarized a number of common questions to help clarify any underlying assumptions relating to single family offices and multi-family offices.
Take a deep dive into the unique differences between single and multi-family offices, (plus best practices to tailor your approach!) in our latest 13-page white paper available below.
In this paper, we take you through:
→

The answers to the most commonly asked questions

→

A side-by-side glance at the nuances between the two entities (SFOs & MFOs)

→

What we see in the future for our space based on predictive data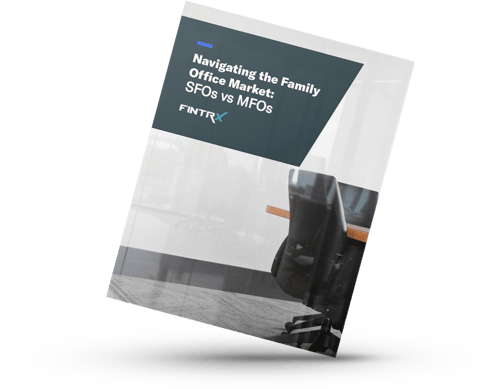 For more practical family office insights and best practices, visit our Knowledge Center.
---
In providing continuously updated family office data, capital raising tools, and savvy search capabilities, FINTRX continues to bring transparency to the family office ecosystem. If you are interested in learning additional information on our proprietary data and research, click here.
For an in-depth exploration of the FINTRX family office platform, click below: