As family offices continue to gain popularity in the alternative investment space, FINTRX offers an inside look at this cloudy landscape and provides the tools necessary for a smooth, productive and humanized outreach solution. Thanks to cutting-edge technology emerging in the market, such as the FINTRX family office data and research platform, asset raising professionals now have global access to an array of tools specifically engineered to identify, access and raise family office capital.
The evolution in the maturity of family offices has become attractive to capital raisers. However, in the midst of an ever-changing market characterized by volatile human behaviors and rapid technological advancements, it's imperative to craft the right messages, make warm introductions feel effortless, and ensure what you're bringing to their attention in the form of your pitch is executed with as much detail and insight into their preferences as possible.
In our latest 12-page guide available below, we explore outreach best practices and insights derived through the analysis of our proprietary data combined with years of extensive research into the family office ecosystem.
Our guide 'How to Utilize Industry Intelligence for Outreach Excellence' is packed with information on the following:
→ Family Offices: Why Capital Raisers Should be Targeting Them
→ Intelligence & Research: How to Leverage Data to Direct your Outreach Approach
→ Smart Pathways to Meaningful Connections: Tactics to Win in your Prospecting Efforts & Best Practices for Creating an Effective Pitch to Family Office Investors
→ FINTRX Solutions: Making connections with FINTRX Affinity & Three ways FINTRX enables success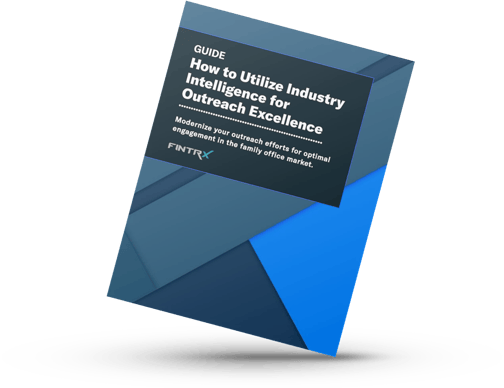 In the midst of economic uncertainty, it is important to reinforce the significance of good strategy, especially when identifying and connecting with those in the private wealth landscape. Spend your time building relationships and making deals, rather than wasting hours researching potential investors.
For more practical family office insights and best practices, visit our Knowledge Center.
For an in-depth exploration of the FINTRX family office platform, click below: