Changing demographics and unforeseen turbidity in the markets continue to influence the way family offices invest and manage client wealth. Family offices are putting their wealth to work in new ways and now expect personalized outreach rooted in commonalities, an understanding of their goals and fruitful investment opportunities aligned to that of the family.
Using a cross section of our complete data set, we invite you to explore this new report (Part 2 of a 3-part series) in partnership with Charles Schwab, to gain an insightful look into the direct investment activity of the global family office ecosystem.
Part 2 of 3 of this report provides a comprehensive look into the direct investment activity of the global family office ecosystem, plus more key takeaways below:
Key Takeaways:
- Direct investment activity by family office type (single family offices vs multi-family offices)
- Regional breakdown of family office direct investment activity (with graphs and maps)
- Breakdown of family offices co-investing
- Family office investments by industry
- Industry allocation by origin of wealth
- Sector allocation by region

Plus... an exclusive interview with Paul Ferguson, Managing Director at Schwab Advisor Family Office.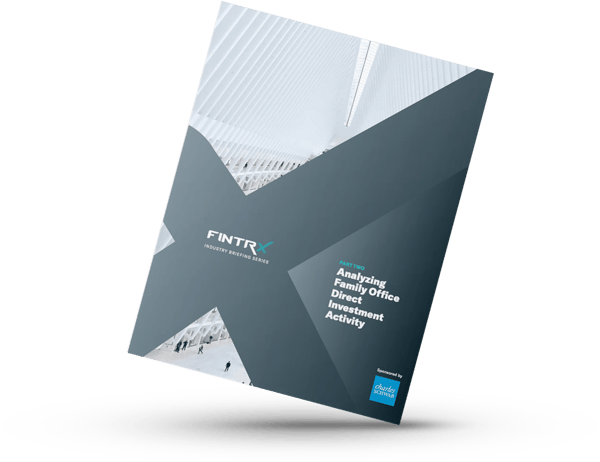 All reports in this series have been compiled from data derived by the FINTRX research team. A multifaceted, bottom up methodology was used to harvest the research from an array of sources. This practice consists of aggregating information from a number of public filings, proprietary data sources, strategic industry relationships and data mapping - among other origins.
In case you missed Part 1 of this series, view your copy of that report here.
---
The utilization of our family office data and research platform has opened doors to the many investment trends that shape our global economy. Engineered to help our clients identify and access family office capital in an intuitive and efficient manner, FINTRX offers accurate family office research, built with a bottom-up approach.
For an in-depth exploration of the FINTRX family office platform, click below:

For practical family office insights and best practices, visit our 'Resource Library' below.