Despite unwavering volatility in the markets, the speed of consolidations in the registered investment advisor (RIA) space continues to hit record-highs, putting the industry on track for its seventh-straight record-setting year, according to consulting firm Echelon Partners. A growing list of quality buyers - firms with specific teams dedicated to making deals - is a main driver in the progressive M&A trend. As numerous reports continue to demonstrate this development, FINTRX highlights three recent RIA mergers with insight into each transaction, group, and the registered investment advisor space at large.
---
A registered investment advisor (RIA) is often described as any firm advising or managing the wealth of ultra high net-worth individuals or institutions. Directly regulated by the Securities Exchange Commission (SEC), RIAs offer a wide range of wealth management services to their clients. RIAs must fully understand the client's definition of financial success to best fulfill their fiduciary duties.
---
The number of RIA transactions has more than doubled in the past five years, with 97 deals recorded last year compared with 41 such deals in 2014, according to DeVoe & Co.
"Growth on your own is hard...So that has left many firms to explore M&A and acquisitions." - David DeVoe, managing director of DeVoe & Co., a consultant and investment bank for the wealth management industry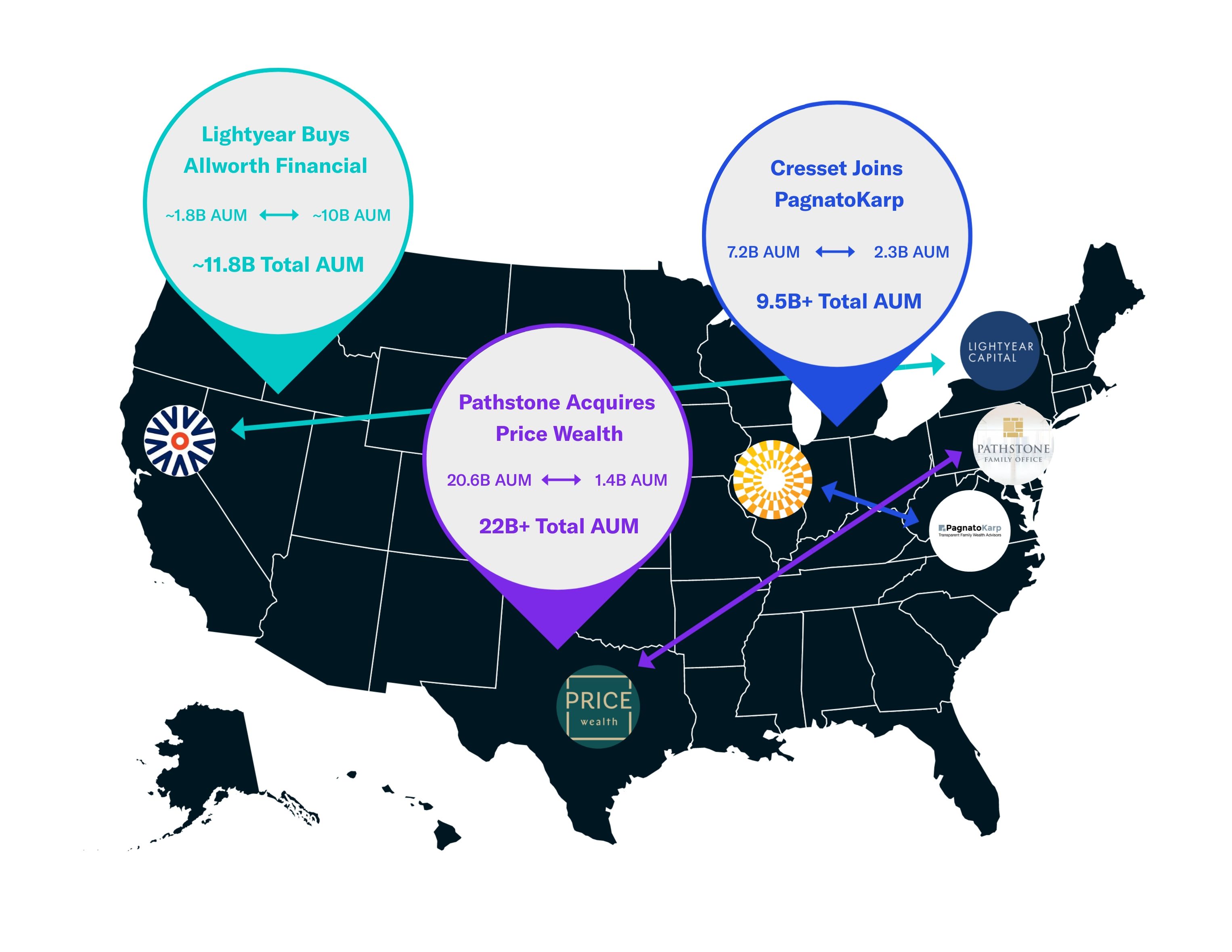 1. Cresset and PagnatoKarp Join Forces
In June of 2020, Cresset Asset Management announced the combining of PagnatoKarp, a Reston, VA-based RIA with $2.3 billion in AUM. Together with PagnatoKarp, Cresset now has $9.5 billion in AUM and eight offices operating worldwide. This strategic merger places Cresset among the 25 largest RIAs in the United States.
PagnatoKarp, a leading multi-family office, prides itself on maintaining a culture of innovation and true fiduciary standards. After joining forces with Cresset, its team members are continuing to provide the same highly personalized private wealth management and family office services its clients have come to expect.
Cresset Asset Management, a Chicago, IL-based family office and private wealth management firm, was founded in 2017 with a view to modernize the way people experience wealth. As longtime wealth management clients themselves, Co-Founders Eric Becker and Avy Stein aimed at creating a firm that delivers comprehensive, personalized financial services. Today, Cresset offers high net worth individuals access to an array of family office services, private investment opportunities and wealth advisory services.
"We continue to explore aligning with firms like PagnatoKarp that share our unique vision, culture, and commitment to long-term growth." - Chris Boehm, Managing Partner of Cresset Partners, who leads Cresset's investments in the RIA sector
2. Pathstone Acquisition of Price Wealth
In September of 2020, Pathstone, The Modern Family Office announced the acquisition of Price Wealth, LLC - an Austin, TX-based independent wealth advisor with $1.4 billion in client assets. With the addition of Price Wealth, Pathstone now has 10 offices and a collective $22 billion in total advisory assets. Price Wealth's service model, culture and clients aligned perfectly with Pathstone's mission and core values. Matt Fleissig, president of Pathstone, welcomed the employees, partners and clients of Price Wealth to his firm, later explaining their suitability in a press release.
"My partner, Susan Wittliff, and I believe this [transaction] will help us honor our pledge to oversee our clients' financial affairs for many generations to come. For our employees, Pathstone provides additional opportunities for growth and greatly enhances our ability to attract and retain talent." - Matt Fleissig, President of Pathstone
Eric Price, founder and chief investment officer of Price Wealth replied in a similar fashion, saying this deal is "key to fulfilling the firm's succession plans." The banking team of Colchester Partners advised Price Wealth in its transaction with Pathstone, and Queen Saenz + Schutz served as legal counsel. Alston & Bird LLP served as legal counsel for the acquisition of Pathstone. Specific financial details of the transaction were not disclosed.
Pathstone, an independently operated and partner-owned advisory firm in Englewood, N.J., provides customized financial advice to high net-worth families, individuals, family offices and select nonprofit institutions. The firm has created a distinct culture of innovation built on the foundation of trust and service traditionally delivered by family offices.
3. Lightyear Buys Allworth Financial
Lightyear Capital bought Allworth Financial - a small, young RIA - at a reported tremendous valuation. The price could be as high as $800 million, an unnamed source told Barron's. The company declined to disclose terms but said senior management will remain significant shareholders. The transaction is estimated to close by the end of 2020.
"This investment is consistent not only with our long-term thesis around the growing need for financial advice, particularly in times of uncertainty, but also with our multiple prior successful investments in the space." - Mark F. Vassallo, Managing Partner of Lightyear
Founded in 1993 and based in Sacramento, CA, Allworth is a full-service independent investment and financial advisory firm specializing in retirement planning, investment advising, tax and estate planning for the mass affluent. Allworth has grown client AUM from $2.4 billion to an estimated $10 billion since 2017.
Lightyear, a large New York-based private equity firm with approximately 1.8B+ in AUM, partnered with the Ontario Teachers' Pension Plan Board to outbid two private equity firms. Parthenon Capital, which purchased the RIA in 2017, drove the deal.
"We believe the company is an attractive investment given its differentiated and retirement-centric business model as well as industry tailwinds including an aging population and increased demand for professional and holistic wealth planning services. We look forward to supporting management's long-term value creation and growth aspirations for Allworth." - Karen Frank, Senior Managing Director, Equities at Ontario Teachers
---
For more information on RIAs, check out our recent blog post: Exploring the Registered Investment Advisor (RIA) Channel or visit our blog below.
---
FINTRX delivers an industry-leading suite of family office data and research solutions to the alternative wealth space and private capital markets. Engineered to help our clients identify and access family office capital in an intuitive and efficient manner, the FINTRX family office platform offers accurate family office data and research, built with a bottom-up approach.
For an in-depth exploration of the FINTRX family office platform, click below:

For more practical family office insights and best practices, visit our 'Resource Library' below.