In a time of unprecedented challenges, many organizations and investors are looking for new opportunities in all directions. Despite volatility in the markets, registered investment advisers continue to push forward. In an effort to shine light on the RIA channel, FINTRX offers insight and analytics into the ten largest investment advisor employers as of October 2020.
Registered investment advisors, or RIAs, offer an array of wealth management and investment advisory services to their clientele while acting in the best interest of each. An RIA is any firm who advises or manages the wealth of high net-worth individuals or institutions. Because all RIAs are fiduciary organizations, they therefore must be registered with the SEC, or their respective state's regulatory body. RIAs make up a broad range of groups across the financial landscape, among these are wealth advisers, hedge funds, retail investment advisories, private equity firms, multi-family offices and other entities managing institutional capital.
From data our research team has gathered, we estimate there to be about 34,924 registered investment advisors currently, with more than 405,000 contacts. For additional information on registered investment advisers, refer to our recent blog post: Exploring the Registered Investment Adviser (RIA) Channel.
Below, we examine the top ten investment adviser employers as of October:
1. Merrill Lynch, Pierce, Fenner & Smith Inc.
2. Edward D. Jones & Co., L.P.
3. Morgan Stanley Smith Barney, LLC
4. Wells Fargo Clearing Services, LLC
5. LPL Financial, LLC
6. Ameriprise Financial Services, LLC
7. UBS Financial Services Inc.
8. Fidelity Personal and Workplace Advisors, LLC
9. J.P. Morgan Securities, LLC
10. Raymond James Financial Services Advisors, Inc.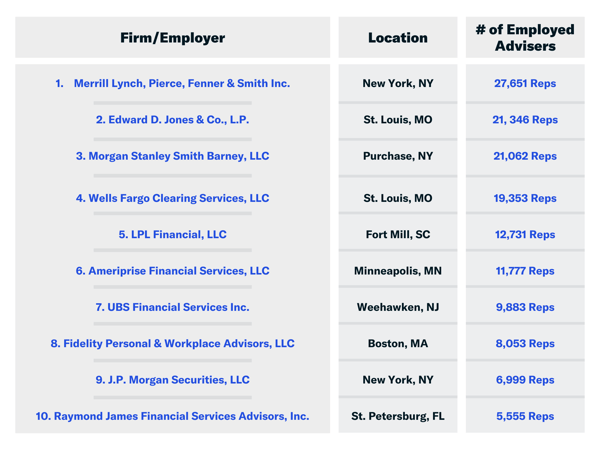 More than one third of all registered representatives work under the name of the top ten firms (listed above).
In the face of unprecedented challenges and ambiguous risks, RIAs continue to demonstrate healthy growth across all metrics, with an increased number employment opportunities, firms, client demand, AUM and more. Many are drawn to the financial upside and independence the RIA model brings. Because RIAs are not tied to a company, they have the freedom and flexibility to provide independent advice to various clients. Most add the value of their experience by working with third-party custodians, such as large banks and institutions.
---
FINTRX delivers an industry leading suite of family office data and research solutions to the alternative wealth space and private capital markets. Engineered to help our clients identify and access family office capital in an intuitive and efficient manner, the FINTRX platform offers accurate family office data and research to radically improve your workflow and prospecting efforts with these private wealth groups.
For an in-depth exploration of the FINTRX family office platform, click below:

For more practical family office insights and best practices, visit the FINTRX 'Resource Library' below.