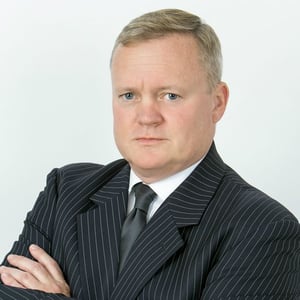 Paul has extensive experience in advising high net worth individuals and family offices in the areas of trust and fiduciary disputes. Before joining Grosvenor, Law Paul worked in London, Jersey and Sydney. His multi-jurisdictional background is of particular benefit to clients with international interests who are seeking to recover or preserve assets in multiple jurisdictions. Paul is no stranger to advising on exceptionally high value claims. He recently negotiated a favorable settlement for his client in a €250m claim brought by the liquidators of a failed venture, on behalf of its largest creditor, for a fraction of the amount claimed. Paul's expertise also extends to insolvency, company and shareholders' disputes, banking and financial services litigation and reinsurance disputes.
Please introduce yourself, your background and tell us more about Grosvenor Law and what you do?
I am a partner in the specialist Mayfair litigation firm, Grosvenor Law.
I am a commercial litigator and have specialized in trusts and fiduciary litigation and advice for the last 20 years. I am admitted as a solicitor in Australia and England and have been called as an Advocate in Jersey; I now practice in London but have also worked in Sydney and Jersey.

My work necessarily has a substantial offshore aspect and I regularly deal with professional trustees, advisors and families from the Cook Islands to the Caribbean.
Grosvenor Law is a specialist dispute resolution practice in Mayfair with a particular emphasis on working with entrepreneurs and what you could call newer private wealth. Our five partners undertake all forms of commercial and civil fraud disputes work.
What are some of the biggest legal challenges that most family offices face that you're trying to solve for?
My experience is that the difficulties or challenges faced by family offices are always a constant mix of resolving intra-family tensions surrounding planning for and executing succession and the competence or otherwise of third party advisers and trustees.
Over the past decade, one issue that has arisen is, of course, balancing the natural and proper desire for privacy and confidentiality within a family with the always increasing obligations of disclosure or the provision of information inherent in any structure now.
Every structure also always needs to be under constant review; it is my experience that even the simplest structures need to be renewed after five years or so at the most. This requirement means that there is a constant tension between running what you have now and looking to and effecting what you need in the future.
What appears to be the most common root of such disputes and litigations?
It may well be that each unhappy family is unhappy in its own way but, unsurprisingly, my experience is that money is always ostensibly at the heart of any dispute. However, when one looks at what is really going on, sometimes this is more apparent than real.
There is frequently a considerable difference between what someone thinks he or she is entitled to compared with what he or she is, in truth, entitled to. Resolving disputes is often a matter of convincing people of this reality.
The other aspect is that people react when they think, sometimes rightly, that they are being denied information or not being taken seriously. Bringing people with you by telling them what is going on and at least allowing them to participate in matters such that all views are taken seriously goes a long way to avoiding disputes within any family.
Have you found yourself working with the younger, second generation of family offices which has slowly taken over? How different are their problems in contrast with the previous generation of families?
The difference between the first and second generation is the often the difference between earning wealth and spending wealth, particularly as first generation wealth, almost invariably, comes with a strong personality at the top of the particular family pyramid.
The absence in a later generation of such a figure means that the deference that might have existed between family members at an earlier time and which worked to prevent disputes is gone. This means that family members can quite often act in what they perceive to be their own best interests, rather than the interests of the family as a whole. Put simply, the problem with having earned wealth is always then preserving and managing that wealth.
How do the challenges differ between single family offices and multi-family offices?
A single family office, necessarily, has a focus that a multi-family office does not. On the other hand, a multi-family office will, equally necessarily, have a broader view of things because it will not be focused entirely on one family only.
For my work, this is a distinction without a difference as my instructions always arise out of single family disputes, not across a range of families.
Have the GDPR regulations had an impact on your work? If so, please elaborate.
When the GDPR regulations came into force, the effect on our practice was minor because we had in place, in any event, relevant strong controls and procedures. We simply reviewed and updated these as necessary for GDPR.
How do you ensure compliance and safekeeping of sensitive data of your clients and team? (i.e. Tools? Processes?)

Our IT provider is ISO 27001 certified; this means that our clients' data is stored or recorded with the highest possible security and protection. It is impossible to take protection of client data too seriously.
What are some of your go-to resources to stay abreast of the latest news and investments in your industries?
Key professional memberships are invaluable; I am a member of the Society of Trusts and Estates Practitioners (STEP), the Association of Trusts and Estates Practitioners and an overseas member of the Chancery Bar Association (as a practicing Jersey Advocate).
As a commercial litigator, arbitration is an increasing part of practice of dispute resolution including private client work; that being so, I am also a member of the Chartered Institute of Arbitrators.
These bodies are all very good for maintaining and developing my black letter, technical skills as a lawyer; additionally, STEP Conferences and branch seminars are extraordinarily useful not only for maintaining my contacts with professional trustees but for also maintaining a current state of knowledge about trustee and family office problems and developments other than from my own practice.
Over the years, I have found the annual STEP Asia Conference particularly useful for developing and maintaining relationships with trustees and family offices.
What has been one book about business, finance or law that you've read and that you consider a must-read?
I am not sure that any book will tell you anything that you have not learnt or can only learn from experience of practice. However, as a practitioner who has to solve client problems, I find the two primary trusts texts in England and Australia – respectively, Lewin and Jacobs – invaluable in my day-to-day work of wrestling with unusual technical trusts problems.
I cannot say that I have read either book in the one sitting or straight through, of course, but I think I can say safely say that over the years I would have read the entirety of both and some parts too many times.
Every practitioner doing private client work should read Anthony Trollope's "The Way We Live Now"; 140 years after it was written, there is still no better insight into certain aspects of the world of private wealth.
---
You can find out more about Paul Tracey and Grosvenor Law on the firm's website at https://www.grosvenorlaw.com.