Over the last several years, the family office space has experienced immense growth in terms of size, scope and prevalence. Amid today's turbulent market environment, family offices are exposed to a whole new set of challenges and opportunities. Fortunately, their adaptive nature makes them the perfect fit in this type of volatile environment. To better understand the dynamic nature of these private wealth entities, we explore three ways family offices are adapting to — and mastering — the unique challenges inherent to wealth ownership amid today's unpredictability.
Despite the current market conditions, we continue to see an upswing in global family office investment activity. Family offices recognize the need for flexibility, sophistication and effective governance when it comes to running a highly impactful operation.
"A commitment to strategic asset allocation has meant that family offices have performed in line with, or above, targets during one of the most volatile moments in the history of financial markets. Yet they also see the uncertain environment as a chance to deploy cash, raising rather than reducing their risk profiles." - Joseph Stadler, UBS Global Wealth Management
Yet, the challenge remains to ensure that all relevant stakeholders not only perform successfully to fulfill the specific wants and needs of their clients, but to do so in harmony so the whole group grows and evolves together. Below, we explore three ways family offices rise to the challenges and opportunities inherent to wealth ownership.
1. Many family offices are making an effort to enhance and broaden the scope of their internal operations
Not only are existing family offices growing and expanding — along with the size of AUM — but new ones are being formed at a rate faster than ever before. Described by Bloomberg as "the vehicle of choice to protect and preserve assets for future generations," modern family office structures take their traditional 'one-stop shop' approach to a whole new level. Nowadays, family offices have become increasingly dynamic, adaptive and more willing to acquire outside partners in the hopes of optimizing internal processes. These private entities work one-on-one with families, helping to reduce complexity by coordinating advisors and incorporating financial goals that align to the values and goals of each client. The key is to build a unique, individualized approach for each client - as opposed to a generic self-service experience.
Main Points:

→ Becoming increasingly savvy, equipping their teams with specialized talent
→ Because of this increase in specialized talent, many firms are able to broaden internal investment capabilities (in particular, private equity professionals and real estate investment professionals)
2. More actively involved in preserving their family legacy
Family offices are well-positioned to break out of their traditional financial management role to centrally manage strategic activities for a family. Today, family offices tend to be a bit more inclusive with their client(s), offering more of a holistic approach to wealth management. This ultimately gives family members a bit more control as to the causes and initiatives that matter most to the family.
Main Points:

→ The mission and vision of the family drive the work of the office itself
→ Committed to strategic asset allocation (strategic asset allocation is a portfolio strategy whereby the investor sets target allocations for various asset classes and rebalances the portfolio periodically)
→ Family offices focused on building multi-generational wealth recognize they can structure their own deals in-line with their goals
3. Transforming internal operations for a digital world; tapping into the value of digital transformation
Emerging technologies have been disrupting industries worldwide, and the alternative wealth space is one of them. A large number of organizations underestimate the increasing momentum of digitization, but modern family office structures are not one of them. Adapting to the constant changes in market trends means keeping clients top of mind. Firms should ensure strong connections — via technology or face-to-face — that engage them throughout their journey, oftentimes for generations to come.
Main Points:
→ Showing a greater aptitude for digital advancements simplifies internal processes, maximizes efficiency and promotes transparency throughout the organization
→ From digital payment systems to virtual reality training programs, these high-tech solutions help family offices see increased efficiencies and stay ahead
Conclusion:
Thanks to the adaptive nature of the modern family office structure — which consists of savvy financial experts that come equipped with a sophisticated understanding of the space — it is no wonder these groups are still standing strong. With agility built into their DNA, there is no doubt family offices will continue in this evolvement. The challenge is being able to successfully ensure all parties unite their efforts for the greater purpose of the family.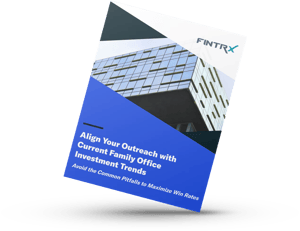 There are many ways to increase agility to respond to current and emerging demands. Through our extensive research, we have revealed four key trends on how family offices are putting their wealth to work amid that we have included in our 11-page guide, Align Your Outreach with Current Family Office Investment Trends.
The utilization of our family office data and research platform has opened doors to the many investment trends that shape our global economy. Engineered to help our clients identify and access family office capital in an intuitive and efficient manner, FINTRX offers accurate family office research, built with a bottom-up approach.
For an in-depth exploration of the FINTRX family office platform, click below:

For practical family office insights and best practices, visit our newly designed 'Resource Library' below.