Multi-family offices have rapidly advanced over the past several years, essentially reforming the mechanisms and efficiency of asset management. While this transformation continues to add value for high net worth families and individuals around the world, this unparalleled expansion has added a new level of complexity to an already obscure space. In an effort to shed light on the family office space, we have provided a number of questions and answers to help clarify some underlying assumptions regarding multi-family offices.
What is a multi-family office?
In a general sense, multi-family offices are private organizations comprised of qualified and well-respected professionals with extensive experience in providing a range of wealth management services to numerous unrelated high net-worth families and individuals.
Recapping the main difference between single family offices and multi-family offices:
As opposed to single-family offices, which manage the financial and personal affairs of one family or individual on a case by case basis, multi-family offices provide capital management services to a number of unrelated families or individuals. Some can be seen managing up to a hundred client portfolios at any given time. Because multi-family offices govern the wealth for various clients, their attention is focused largely on wealth management versus a full suite of services.
A few other key differences are as follows:
- Generally larger than single-family offices
- More of a structured working environment
- Clearly defined employee roles
- Evolving client base
- Less expensive

While the transformation of single and multi-family offices continues to add value for high net-worth families and individuals, it is important to understand the key subtleties between the two.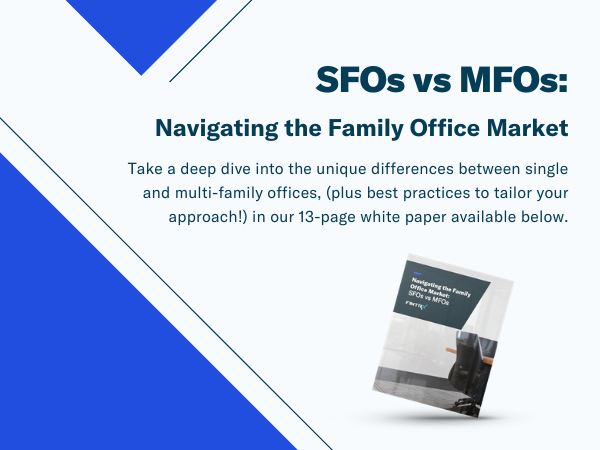 What should each family consider before employing a multi-family office?
There are a few considerations to consider before utilizing the services of a multi-family office. Doing so will help determine the most optimal selection for you and your family.
Each family should identify its:
- Strategic objectives & long-term goals
- Types of services needed
- Net assets
- Desired communication methods


Why join a multi-family office rather than creating a single family office?
With greater wealth comes greater financial complexity - especially in regard to high net-worth families. A family may be more apt to join a multi-family office to save on cost or to access greater financial expertise. The choice also depends on the net amount and level of control the family wishes to maintain. These families are typically seeking a provider with no conflict of interest, enhanced service provision, and improved adaptation. Free from institutional mandates, intermediaries, and other standard due diligence procedures, multi-family offices provide greater freedom and flexibility to allocate capital in a way that aligns with the values and desires of each family.
How are multi-family offices structured?
As with any vertical dealing with the ultra wealthy, multi-family offices are unique in their structures, as they are entirely driven by the varying needs of the families they serve. Each have their own processes and organizational structures, and tend to employ more of an institutional approach. Multi-family offices are continually developing their operational structures to align with the unique needs of wealthy families.
Multi-family office talent often extends to:
- Private Lawyers
- Fund Managers
- Tax & Trust Specialists
- Accounting & Financial experts
- Real Estate Professionals
- Senior Bankers
- Executive Assistants


What services do multi-family offices offer?
Multi-family offices are known to offer a specific set of services to broader clientele, though it all depends on the demands of each family. This is because they themselves control the applicable services put into operation.
Most multi-family offices offer some combination of the following services to its clients:
- Wealth & investment management
- Asset allocation
- Retirement planning
- Legacy planning
- Tax planning
- Insurance planning
- Charitable giving
- Estate planning
- Risk management
What are the assets needed for it to make sense to hire or create a multi-family office?
Although there's no industry-recognized level of wealth to be considered a multi-family office, the customizable services provided by a multi-family office are highly valued - oftentimes requiring AUM anywhere from $10 million to upwards of $200 million. Here at FINTRX, we use $50 million as a minimum requirement to be listed and considered an official family office.
How do multi-family offices communicate with their clients, and how frequently?
Because the daily operations of multi-family offices differ from client to client, the same holds true for the methods of communication client relationship. Some families like to have greater involvement with open lines of communication, while others may request quarterly updates.
What is the best way to source multi-family office information?
Running Google searches and surfing the web can be useful in some capacity, but that tends to be laborious, time-consuming, and oftentimes thin on data. To make things more difficult, static family office excel lists available for purchase often have limited or outdated information. Fortunately, that's where FINTRX enters the playing field. FINTRX allows users to visually pinpoint family office data through advanced and detailed mapping. We strive to keep our end users locked in to the most actionable set of family office data and research available to the industry.
"The need for an ever moving and intuitive data set in the family office space has never been greater - in a nutshell, that's exactly what we do."





-

Russ D'Argento, CEO & Founder of the FINTRX Family Office Platform


What does the future look like in regards to multi-family offices?
As more capital raisers turn to the space for funding, multi-family offices are finding it more beneficial to become forward-facing, and this trend shows no signs of slowing down any time soon. Going public with their investment criteria, portfolio, and contact information offers an opportunity to gain new partnerships and gives capital raisers access to an unparalleled pool of capital. As wealth continues to grow, there is no doubt that multi-family offices will play an even greater role in the management of substantially wealthy families for years to come.

---
Regarded as the go to resource family office data and research provider to the investment industry, the FINTRX family office platform combines proprietary family office data and research for its global contingency of investment managers and private companies seeking to increase their capital raising efforts.
For an in-depth exploration of the FINTRX family office platform, click below:

For more practical family office insights and best practices, visit our newly renovated 'Resource Library' below.