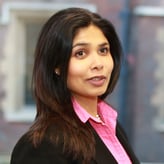 Sofia is an employment lawyer, who advises ultra-high-net-worth clients on private staffing and a wide range of other issues. She advises on recruitment, on-going management and termination of staff such as house managers, butlers, close protection officers, private chefs, nannies, chauffeurs and housekeepers. In addition to drafting tailored contracts and supplementary agreements to protect her clients' privacy, Sofia also deals with contentious terminations, defends her clients' position and reputation if they are faced with employment claims or unreasonable demands from ex-employees.
---
Please introduce yourself, your background and tell us more about Keystone Law and what you do?
I have been a qualified lawyer for twenty years. I started life in the City as an asset finance and corporate lawyer and subsequently switched to employment law twelve years ago. I approach all my cases in a holistic manner, considering commercial sensitivities when advising on best solutions. As an employment lawyer, I acquired some UHNW clients and when dealing with their cases and seeing the world from their perspective, I was hooked. I knew from then on, that this was an area I wanted to specialize in further. I have been specializing in dealing with employment and personal legal matters for ultra-high net worth individuals (UHNWI) and their families for over seven years now. I sometimes act for the families directly, but more often via their private or family offices.
I provide clients with advice and guidance on all employment related matters. This can sometimes involve their own employment contracts, though most of my clients are rarely 'employed'. Occasionally, I am involved in the staffing requirements of their businesses. However, my main area of work in this sphere, is dealing with their private household staffing needs this includes, for instance: housekeepers, nannies, chauffeurs, governesses, lady's maids, butlers, private chefs, house managers and close protection. I advise on the recruitment, management, termination and post-termination of private household staff.
Whilst this is undoubtedly a very niche area, most UHNW families do have staff. Their staffing needs are very different to the staffing needs of any business. The contracts require bespoke clauses to provide them with a level and type of protection which cannot be found in any template. Furthermore, as I have worked in this area for a number of years, and have benefitted from my clients' experiences, our contracts are frequently updated. Working in this area requires a different level of flexibility, creativity and perspective.
I also run regular Private Household HR Forums for house/estate managers, private personal assistants and family office staff, to advise on best practice in the management of household staff. This is to enable my clients to organize the households in a more compliant and effective manner thereby protecting the principals.
I often advise on the exit of an employee or mitigate any potential risk to reputation after termination or where a relationship has broken down. My work involves substantial post-employment advice and litigation; where ex-employees bring various claims against my clients, often hoping for a settlement, knowing my clients have a reputation to protect and deep pockets.
I regularly get called out of 'office hours' to advise on some urgent matters unfolding in a household. I am best able to deal with these matters, often on the instruction of the principal and in their absence, when I have a clear understanding of the client and their personal affairs.
Due to the nature of private staffing, sometimes it will only be appropriate for me to gain instructions from the principals. This can be tricky when, as often they are, based abroad in different countries. For instance, I might find myself trying to seek instructions to defend a UHNW principal from a sexual harassment claim. They may be temporarily based in exotic and 'hard to reach' locations. At any given time, I will not be aware of where they are, they may have poor mobile reception and more often than not, providing me with instructions is usually the lowest priority on their list for the day! Yet for me, deadlines are looming, the other side may be threatening cost orders for our non-compliance and I may have no witness to seek instructions from; I have to be creative and considered in my approach in handling the client, the other side and the courts and managing expectations all round. I have to know my client and their personal affairs well enough to manage such claims and their (often very personal) affairs. Defending such an UHNWI is very different to defending a UK based company where I can obtain instructions from an engaged and motivated HR Director, within office hours.
Knowing my clients' affairs, intimately, also means I am often a 'trusted adviser' and called upon to advise on a range of matters, legal and non-legal, employment and non-employment law related. Having experience and contacts in this area means I can draw on a trusted provider network to assist my clients. When asked to advise on legal matters out of my remit, I have the benefit of my colleagues in Keystone. I am able to draw on the breadth of expertise of my colleagues to ensure my clients' interests are well served and protected. Keystone have a specialist team who deal with ultra-high net worth clients and their lifestyles. We are able to provide seamless specialist advice to clients on unique issues ranging from property, aircraft or yacht acquisition to art or equestrian sales or disputes.
What are some of the biggest legal challenges that most family offices face that you're trying to solve for?
Families who have family offices, by their very nature, also tend to have lifestyles that are extraordinary and therefore easily attract media attention. If they hire, manage or fire their private staff incorrectly, it is newsworthy. We often read about nannies, housekeepers or bodyguards of the celebrities, who claim to have been mistreated or who expose the family's personal habits or affairs.
I believe the greatest legal challenge the family offices face is not appreciating the level of media interest in the family until it is too late, not realizing the role that staff can play or can threaten to play, in fueling the media interest and not knowing how best to mitigate those risks.
Specializing in this area I come across many different claims and scenarios and it is no surprise that extortion is common place in this sphere. I advise family offices on how to mitigate the risks by providing clear guidance on how to employ, manage and terminate staff in a fair and legally compliant manner to limit the exposure and manage the reputation of the very family they are working hard to protect.
How have things changed for you since the implementation of the General Data Protection Regulation (GDPR) laws last year?
It often comes as a surprise to my clients that the GDPR applies to them (or the company employing the private household staff). Most private households, where staff are engaged, have CCTV - often outside, sometimes inside too. The companies employing such staff have to register themselves with the Information Commissioner's Office (the "ICO"), they have to provide their staff with a privacy notice (in addition to their contract of employment) and have various policies in place such as a privacy standard and a CCTV policy as a minimum. I have been involved in instances where departing employees have required my clients to demonstrate their GDPR compliance and have further made subject access requests. Compliance with the new regulations is something I advise on and assist my clients with. I do also advise all my clients to be aware of the possibility that they will need to disclose all text/WhatsApp messages and emails they may have written to their employees or about their employees during the course of their employment. Since the implementation of the GDPR, personal information is increasingly being sought as a tactic by departing employees!
How do you ensure compliance and safekeeping of sensitive data of your clients and team? (i.e. Tools? Processes?)
All client information is on our firm PC systems and subject to stringent security arrangements. We have a team of dedicated IT specialists in house, as well as an out sourced team. All our compliance and safekeeping is dealt with electronically with 24/7 support.
What are some common pitfalls and mistakes that family offices face when it comes to employment?
There is a general misconception that employing private staff in households is somehow exempt from the usual employment law requirements and the relationship can be governed on trust or casual, informal arrangements. Nothing could be further from the truth.
When clients instruct me, it is often because they have realised that hiring private household staff requires a much more stringent level of legal compliance and confidentiality, much more so than for a small business. Private household staff are the eyes and ears of the inner family conversations and goings on. They are most susceptible to being used as a tool for information on the family by any outsider or for using the confidential information they have acquired during the course of their employment, to their advantage after the employment relationship has ended. Clients often come to me when they have secured new staff and recruitment agencies have advised them of the importance of legal compliance or if they have been on the receiving end of poor employee relations or a claim.
How do the challenges differ between single family offices and multi-family offices?
The challenges faced, in respect of appreciating the potential liability posed by employing private household staff, is the same whether it is a single or multiple family office. I would advise all family offices to take a more holistic approach to overseeing the interests of the family looking, beyond wealth management, to more comprehensive protection.
What is some general advice or quick tips you can offer to families and UHNWIs in regards to employment law?
Private households will invariably need staffing. Once staff are recruited, ensure you provide them with a robust contract which provides the family with maximum protection and control. Ensure your employees cannot spread family news and your personal affairs stay personal. If you are providing accommodation, ensure you are able to gain vacant possession after you terminate. If you are employing the butler to work until midnight every night and start at 7am, ensure this is legally possible. All these matters and more can be dealt with in contracts. When the employment relationship is stress tested or comes to an end, the family will need to fall back on those contracts. When managing an employee out, seek advice, ensure you do it correctly thereby limiting the ammunition provided to the departing employee. When the employee's lawyer requests complete contractual documentation and for you to demonstrate GDPR compliance, ensure you are a step ahead. Prevention is more effective in protecting your reputation as well as being more cost effective than a cure.
What are some of your go-to resources to stay abreast of the latest news and investments in your industries?
Employment law changes at a rapid pace, so it is always important to be up to date on legislative changes and case law. I receive and read electronic employment law updates daily, I also regularly read Spear's magazine and similar publications to stay abreast of the industry I work in. I review surveys and compensation benchmarking undertaken by various family office network groups and specialist recruitment agencies, so I am able to advise my clients if asked on such matters.
What has been one book about business, finance or law that you've read and that you consider a must-read?
I read articles on business and law, I don't read books on such subjects. My book reading time is usually reserved for some thrilling fiction.
---
You can find out more about Sofia Syed and Keystone Law on the firm's website at https://keystonelaw.co.uk.