FAMILY OFFICES: 'QUIET CAPITAL'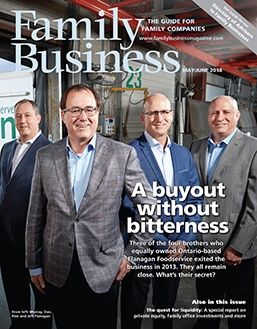 Private equity and strategic buyers aren't the only suitors pursuing family businesses today.
Family offices, those low-key organizations formed to manage the wealth of ultra-high-net-worth families, are discreetly wooing business families who might be interested in selling a stake.
"Families that have built and grown successful businesses are increasingly looking for opportunities to invest in [other] family-owned businesses," says Irene Mello, director of the Direct Investing Network at Family Office Exchange (FOX), a network for wealthy families and their family offices.
This relatively recent development is part of a growing trend by family investment firms to allocate a portion of their assets to investments in operating businesses. The past 24 months have seen a big uptick in this "direct investment" by the family office sector, notes Russ D'Argento, CEO of Fintrx, which provides data and research on the family office sector to the private capital markets.
In FOX's 2017 Global Investment Survey, 57% of family offices reported being involved, in some fashion, in direct investing in operating businesses. It's safe to assume at least some of those investments are in family businesses. Most family offices are looking for deals under $1 billion. Almost all companies bought by family investment firms are private businesses, observers say.
There are several reasons for the increase in direct investment. To begin with, family investment firms today are very sophisticated and have hired top-tier talent, D'Argento says. As savvy financial investors, they've become increasingly dissatisfied with the "2-and-20" fee model used by private equity funds — a 2% management charge and a 20% performance fee — says Angelo Robles, founder and CEO of the Family Office Association, a global membership community of successful families and single-family offices.

Family companies provide great cash flows and growth opportunities, explains Bobby Stover, Ernst & Young's Americas family office leader. Because public markets are extremely efficient today, it's harder to find growth opportunities there, he says.