The FINTRX family office data and research platform is becoming smarter and broader at a rate faster than ever before. To showcase our growing plethora of data tools designed specifically for the asset raising professional, we have rounded up 10 tips and tricks for utilizing our platform to the best of its ability. This article outlines best practices, tools for on-the-go use cases and helpful suggestions to ensure a streamlined experience for navigating the family office landscape. Whether or not you are a FINTRX user, we strongly feel the contents inside provide helpful insight into this hard to reach, yet economically significant sector.
Thanks to our dedicated research team, FINTRX is continuously being expanded and updated when necessary, thus guaranteeing fresh and accurate data at your fingertips. Despite your knowledge level of the platform itself, we aim to provide easy-to-understand suggestions for maximizing your time spent on the platform to best ensure a smooth and efficient workflow.
10 Tips and Tricks for Utilizing the FINTRX Family Office Platform from FINTRX on Vimeo.
1. Mile Radius Search & Keyword Search
The 'Mile Radius Search' tool is a great feature for on-the-go use cases, as it helps make travel accommodations a much easier part of your workflow. Within the FINTRX platform, the 'Mile Radius Search' functionality allows users to narrow down searches to a specific geographic region. This is especially helpful for cities that have multiple vicinities or hotspots so to speak. This feature is especially useful for prospecting efforts. Rather than limiting your search to one city, let's say Boston for instance, FINTRX will quickly generate all family offices in the Boston area, anywhere from five to 100 miles outside the city.
Key Characteristics:
- Designed to facilitate matters those who travel to different cities to meet with prospects
- View profiles of all surrounding family offices and contacts within 100 miles of your search
- Easily create lists of different regions to stay organized
2. Relatability Insight via FINTRX Affinity
Designed to humanize your outreach with investors, the 'Affinity Score' feature works to leverage any and all commonalities that you have with the 11,000+ contacts within our database. This feature provides unique conversation starters, actionable insights and meaningful intel to ensure users have the opportunity to present warmer introductions with investors worldwide. Our algorithms slice through millions of data points each day, bringing to the top the family office decision-makers that you share commonalities with. Quickly parse through investor contacts to determine who you have the most in common with. From there, leverage that information to strengthen and maintain long-term connections. We have found this humanized prospecting approach to be a true game-changer for our users. For more information on this feature, click here.
Your 'Affinity Score' is broken down into four distinct components:
1. Alma Mater & Resume information
2. Interests & Locations (both in and outside of the office)
3. Boards & Charities
4. Designations & Certifications
Key Characteristics:
- Build rapport with any of the 11,000+ family office contacts that share your hobbies and interests
- Custom conversation starters to find your best path in
- Your 'Affinity Score' automatically runs and refreshes every night
- Team-based insights via 'Affinity Extender Seats'
3. News Portal
Key Characteristics:
- Stay informed on global news concerning family offices and the alternative wealth space as a whole
- Variety of filters allow you to quickly narrow down search results
- Create bookmarks
- View current news articles within the 'Power Search' tool
4. Saved 'Favorites'
The 'Favorites' feature within the FINTRX platform allows users to seamlessly add family office investors and contacts to a personal favorites list titled 'My Favorites'. Simply by starring the family office or contact - via a star located in the upper right-hand corner of the profile as well as anywhere you see a contact name throughout the platform (i.e. within lists and search results) - it will then automatically be included on your personal favorites list. This powerful feature allows users to effortlessly review all investors and contacts they have shortlisted. Favorites are often used to identify the best point of contact at each family office. While there are usually about three or four individuals associated with each investor profile, users often save all contacts to a list, and then 'star' the individual best suited for outreach.
Key Characteristics:
- Easily create a list of favored investors and/or contacts
- Equipped with functionality to sort and filter by 'Favorites'
- Carries throughout entire FINTRX platform
- Run searches using your 'Favorites' list
5. Dynamic Prospect List(s)
Even when our clients are away from the platform, our tech-savvy algorithms continuously work to ensure all facets of FINTRX are accurate and updated. One such feature that helps maintain this level of efficiency is our 'Dynamic Lists', which allows users to create specific, automatically updated lists. This saves the user from having to continuously re-run searches to identify new additions. For example, a user may create a 'Dynamic List' with the following parameters: single family offices located in Boston, MA with private equity exposure. If our research team were to add an investor or contact to the product that matches those specific requirements, that family office would then display on that same list.
Key Characteristics:
- Stay updated on investors that match your unique use-case(s)
- Customize the formatting and sorting of your investor and contact lists
- Removes legwork and increases workflow productivity
6. Alert Builder (Customize your alerts)
FINTRX users have the ability to customize their 'Alert Settings' within our platform. Because we are continuously adding and updating our data set, the new 'Alert Builder' lets you determine when and how often you wish to receive notifications on, whether it may be family office updates, contact additions, or emerging news. The module also debuts a new type of alert that keeps you informed on any new or updated contacts added to your 'Affinity Score' (mentioned above). Using a scrollbar, users can then choose the 'Affinity Score' percentage range they wish to receive an alert for.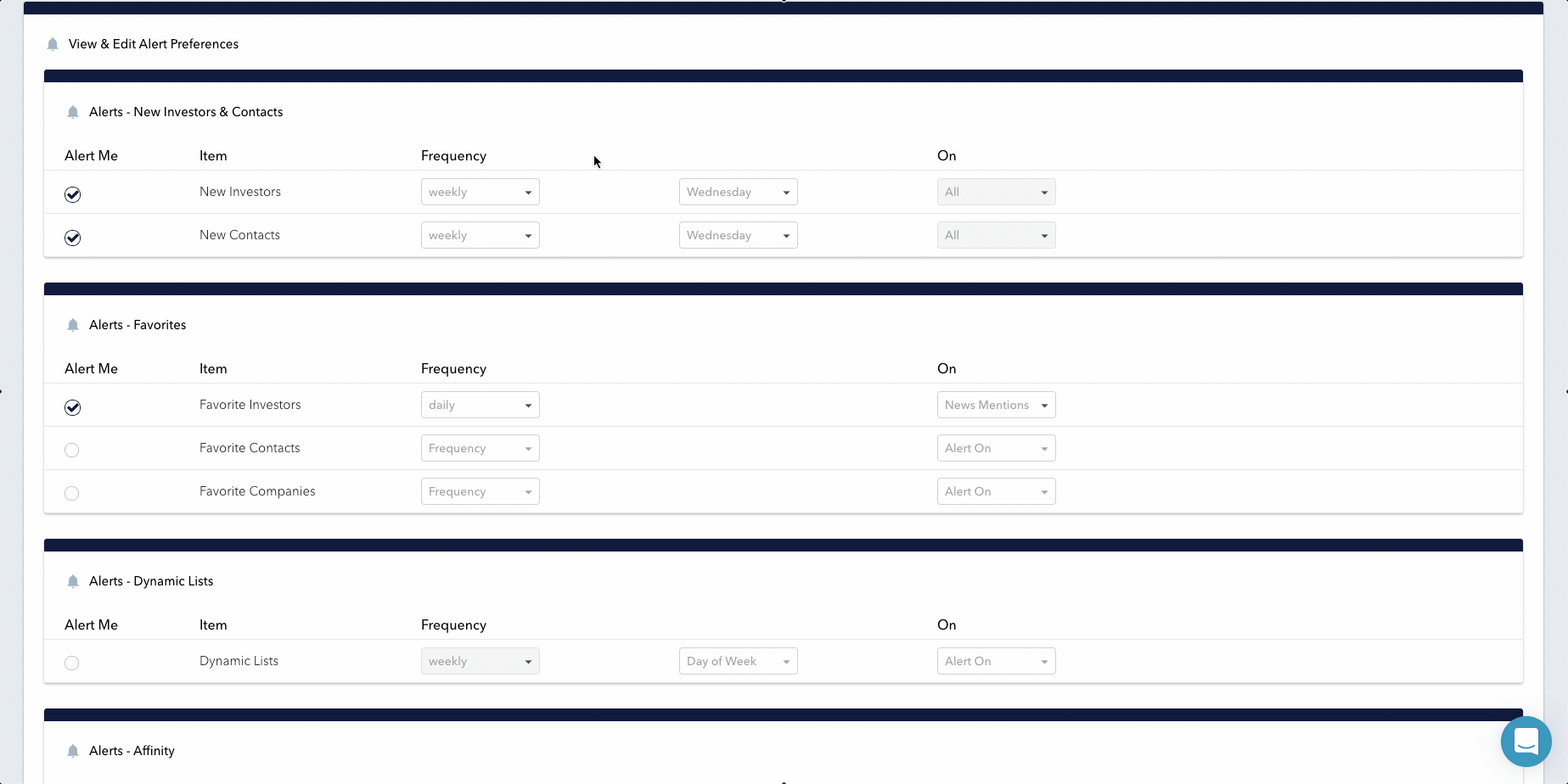 Stay Updated On:
- Dynamic lists
- Favorites
- News
- New Affinity Matches
Key Characteristics:
- Customize the frequency and type of alert(s) you wish you receive
- All historical notifications are listed for reference so nothing falls through the cracks
7. Search Vision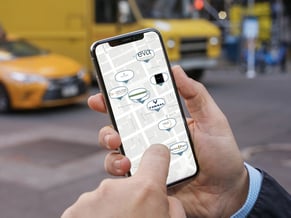 Easily visualize the largest family office database by leveraging our proprietary 'Search Vision' technology. The 'Search Vision' feature is an interactive global map loaded with details of family offices, including their exact locations at a street-level view. Easily narrow down areas of investment interest from a macro to a micro level view to streamline your roadshow preparation.
Key Characteristics:
- All family offices (nearly 3,000) are displayed on the 'Search Vision'
- An interactive map allows you to view family offices at their street-level location
- Ability to view your lists on the 'Search Vision' map
- Helps in maximizing your travel plans
8. Clean & Smooth Mobile Application
Access the family office research you need, regardless of your location. Compatible with all mobile devices and formatted specifically for your mobile screen, FINTRX mobile was created to provide you with instantaneous interactions and access to investors while on the go. When launching FINTRX in your web browser, the platform will automatically detect a mobile device (or tablet) and formats it to the proper version. 'FINTRX Mobile' delivers the data and research you need, when you need it and is included in all FINTRX subscriptions.
FINTRX Mobile Features:
- Live Feed: Stay in touch with all investor updates and additions in real-time
- Power Search: Query through all investors and contacts within FINTRX with 40+ search filters
- Search Vision: Search through family offices geographically, right down to their street-level view
- Investor Lists: View and access all team lists
- Saved Searches: View and run all saved searches within FINTRX
- Users can call and/or email contacts directly from their mobile device
- All interactions save to both the desktop and mobile versions
- No need to download an app!
9. CRM Integration
At FINTRX, we understand how important it is to build strong, humanized relationships with investors. To facilitate this essential operational need, FINTRX built a CRM which allows users to seamlessly document and track all interactions with the family offices and contacts that live within our proprietary dataset.
Key Characteristics:
- Offers real-time sync of email correspondence between Outlook and our cloud-based platform
- Smoothly import emails into the CRM
- Track external conversations with contacts/investors
- Create call notes, activities and reminders to stay organized
10.

Family Office Data On-The-Go:

PDF Exports (Add-On Feature)
For our final tip and trick, we wanted to showcase our 'PDF Export' add-on feature built within our family office platform. Known by the name 'Dossier Builder', this feature allows users to export up to 10 profiles into an inclusive investor portfolio - in PDF format - making it a great solution for those on the move. We find this addition to be a true game-changer for our clients. If you are interested in adding this transformative feature to your account, or simply learning more - contact FINTRX or your customer success representative today!
Key Characteristics:
- Build your portfolio with up to 10 exports every week
- Export full profiles of individual family office investors
- Helps with meeting preparation
- Share hard copies of investor profiles with your colleagues (without having to access the platform)
"From day one, we were able to quickly source investors, implement our data, coordinate efforts internally within the platform and leverage the daily work of the FINTRX team to keep our family office investor pool growing and most importantly, updated and accurate."

- David Kidder, Landmark Capital
---
The FINTRX Platform is engineered to free up time to spend on what is most critical: building family office relationships, raising capital and expanding your business.
For an in-depth exploration of the FINTRX family office platform, click below:

For more practical family office insights and best practices, visit our newly renovated 'Resource Library' below.