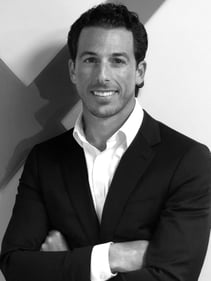 This past month, founder and CEO of the FINTRX Family Office Platform, Russ D'Argento took time to answer a few questions for FintekNews's Cindy Taylor. Read on for D'Argento's insights into his background in capital raising, the genesis of FINTRX, and the payoff FINTRX has for its clients.
How did you personally become involved in fintech? - I've always been entrepreneurial, having started my first business while in college. My initial involvement in the Fintech world came post college while raising capital in the single manager hedge fund space for an established firm in Boston. I was targeting an array of allocators, however my main focus was on the world of single and multi family offices.

What I quickly discovered was two-fold: the data was incredibly ugly, clunky, and quite hard to manage and search. The user experience greatly lagged the other "tech" products I was using day to day outside of work. Second, I was constantly forced to bounce back and forth through a number of different programs, lists, and tools throughout the work day in order to accomplish my prospecting tasks. I was living this pain point daily and figured there had to be a more efficient and streamlined way. Thus began the quest to leverage technology within the finance and data sectors and embark on the building of what today is the FINTRX Platform.

What does your firm do/offer within the fintech sector? - We provide our users access to a cloud based asset raising tool focused on leveraging both technology and data. There are a few different product levels and tiers dependent on need and use case of the client. We have global users using the research, data, and technology that FINTRX features to better organize and increase their capital raising efforts. What's really quite interesting about what we're doing is the diversified adoption of FINTRX. It has become clear with time that the use case of having quality investor intel in a smooth and efficient interface translates to a number of different asset classes. Users range from; hedge funds, traditional asset management shops, private equity, venture capital, real estate, investment banks and a myriad of others. To me, it's that wide adoption that makes Fintech so interesting – fuse technology into a product line that was previously static and it typically tends to make sense to the end user. Regardless of the asset class.

What has been the biggest success in your firm to date? - Hands down it would have to be the feedback and capital raising success stories from our users. When moving from a static data/research product to FINTRX, the positive feedback tends to be almost immediate. We have found this to be true across the board – from our users in their infancy stages to some of the largest financial companies in the world that we have secured as clients.
The family office world is dynamic and expanding, and can be tough to make sense of. Get the edge with clean, actionable family office data using our FINTRX Family Office Platform.